All films are in original version with English subtitles
October 13, Thursday
6 PM Red Carpet. 7 Movie

Spain's official submission for the 2012 Foreign-Language Film Academy Award.

Join us after the screening for a reception in the Egyptian courtyard, celebrating Spanish films and Spain's national day!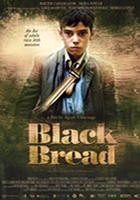 BLACK BREAD (PA NEGRE)
2010
Massa d'Or Produccions, Televisió de Catalunya
108 min.
Dir. Agusti Villaronga
Cast: Francesc Colomer, Marina Comas, Nora Navas, Roger Casamajor, Lluïsa Castell, Marina Gatell, Laia Marull, Eduard Fernández, Sergi López
In Spain in 1944, 11-year-old Andreu (Francesc Colomer) witnesses the brutal murder of a man and his son in a forested ravine and runs home to tell his mother, Florencia (Nora Navas). Andreu soon thereafter is sent to live with his extended family in the countryside, where he befriends his jaded cousin Nuria (Marina Comas), who has lost her fingers to a grenade, and a consumptive boy who imagines he has angel wings. Subversive filmmaker Agusti Villaronga's harrowing and richly textured depiction of Spanish rural life during wartime is
"dark to its heart and breathlessly watchable"
(
Variety
). Winner of a whopping nine Goya Awards, including Best Film and Best Director.
Discussion with actress Nora Navas

Buy tickets

Trailer
Preceded by the Student Short Film Contest New Filmmakers from Spain Winner: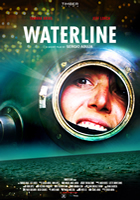 WATERLINE
2010
Timber films
16 min.
Dir. Sergio Abuja
Strangers Val and Mary Cybele survive the sinking of a cruise ship, and, over the course of that fateful day, get to know one another in the most dire of circumstances as they reach land and try to save themselves.
Jury members:
Andrew Crane: Membership Manager & Special Project Programmer, American Cinemateque
Hebe Tabachnik: World Cinema Programmer, Los Angeles and Palm Springs Film Festivals and Los Angeles Film Festival Short Film Programmer
Ignacio Darnaude: Executive Vice President International Creative, Sony Pictures

Buy tickets
October 14, Friday
10:00 AM

SPANISH FILM STUDY-DAY

Organized by the American Cinematheque, the Spanish Resource Center, Education Office of the Spanish Consulate in LA, EGEDA and the Spanish and Portuguese Department, Dornsife College of Letters, Arts and Sciences USC.

Students from Los Alisos and Laguna Hills High will have the chance to enjoy the Spanish recent film, Among Wolves (Entrelobos). Before and after watching the film, they will be engaged in a series of film and Spanish-language related PEDAGOGICAL TASKS to help them make the most of the film while improving their Spanish-language skills.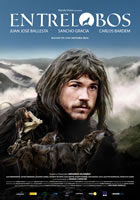 AMONG WOLVES (ENTRELOBOS)
2010
Wanda Visión, Arakao Films, Sophisticated Films
Dir. Gerardo Olivares

Based on an extraordinary true story, 7-yearold Marcos is sold by his father and taken to the Valley of Silence, to live with an elderly goatherd.
Upon the old man's death, Marcos befriends a pack of wolves and, for the 12 years that follow, becomes the "Alpha Male" of the pack.

Trailer
7:30 PM. Double Feature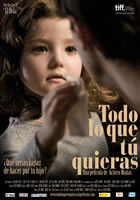 ANYTHING YOU WANT (TODO LO QUE TU QUIERAS)
2010
Bellatrix Films S.L.
101 min.
Dir. Achero Mañas
Cast: Juan Diego Botto, José Luis Gómez, Najwa Nimri, Ana Risueño, Pedro Alonso, Lucía Fernández
Recently widowed Leo (Juan Diego Botto) finds himself leading a dazed and lonely life with his 4-year-old daughter. After frequent requests from the child for a "fake mother" and Leo's date with an ex-girlfriend to a transvestite cabaret, the newly single father begins toying with - and commiting to - the idea of cross-dressing. A striking drama from filmmaker Achero Manas that subversively examines parental gender roles and issues of complex masculine identity. Official selection of the Toronto International Film Festival 2010 and the Palm Springs International Film Festival 2011.
Discussion after film with director Achero Mañas

Buy tickets

Trailer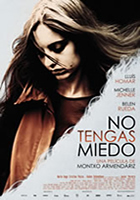 DON'T BE AFRAID (NO TENGAS MIEDO)
2011
Oria Films S.L.
90 min.
Dir. Montxo Armendariz
Cast: Michelle Jenner, Lluís Homar, Belén Rueda, Nuria Gago, Rubén Ochandiano, Cristina Plazas, Javier Pereira
An authentically disturbing sequence early in director Montxo Armendariz's haunting drama about the long-term effects of child abuse arrestingly sets the tone for a thoughtful tale following Silvia (an excellent Michelle Jenner) through life as she copes with a traumatic childhood relationship with her father. The film also features an outstanding Belen Rueda as Silvia's mother.

Buy tickets

Trailer
October 15, Saturday
7:30 PM. Double Feature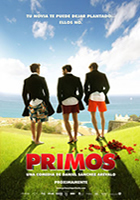 COUSINHOOD (PRIMOS)
2011
Atipica Films, MOD Producciones, Warner Bros
98 min.
Dir. Daniel Sanchez Arevalo
Cast: Quim Gutiérrez , Raúl Arévalo, Adrián Lastra, Inma Cuesta, Antonio de la Torre, Clara Lago, Nuria Gago, Alicia Rubio, Marcos Ruiz
When Diego (Quim Gutierrez) is jilted at the altar, his cousins, playboy Julian (Raul Arevalo) and depressed, eyepatch-wearing Miguel (Adrian Lastra), convince him to join them on a trip to northern coastal Spain, where they think Diego can re-ignite the spark with ex-girlfriend Martina (Inma Cuesta). A very funny and surprisingly edgy comedy about male insecurity and weakness from filmmaker Daniel Sanchez Arevalo.

Buy tickets

Trailer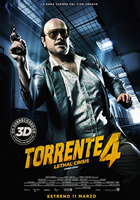 TORRENTE 4: LETHAL CRISIS (TORRENTE 4: CRISIS LETAL)
2011
Amiguetes Entertainment, Antena 3 Films
93 min.
Dir. Santiago Segura
Cast: Santiago Segura, Kiko Rivera, María Lapiedra, Javier Gutierrez, Goyo Giménez, Silvia Abril
The fourth installment in writer-director-star Santiago Segura's franchise about iconic lowlife cop-turned-private eye Jose Luis Torrente finds the lead character contracted to kill the father of the bride whose wedding he has just turned upside down. However, Torrente's contractor betrays him, and the balding detective winds up in jail, where he meets a slew of colorful characters (including 87-year-old Tony Leblanc, who has appeared throughout the series as Torrente's uncle Gregorio) who help him scheme a hairbrained strategy for busting out of prison. With Enrique Villen and Kiko Rivera.
Discussion after film with director Santiago Segura

Buy tickets

Trailer
October 16, Sunday
7:30 PM. Double Feature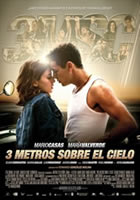 THREE STEPS ABOVE HEAVEN (TRES METROS SOBRE EL CIELO)
2010
Globo Media, Antena 3 Films, Charanga Films, Zeta Cinema
118 min.
Dir. Fernando Gonzalez Molina
Cast: Mario Casas, María Valverde, Nerea Camacho, Marcel Borràs
Based on Federico Moccia's cult novel and recalling the charmingly improbable romances of 80s Brat Pack films, Barcelona teen Hache (Mario Casas), a brawny biker with a short fuse, and wealthy if sometimes rebellious Babi (Maria Valverde) meet at a traffic light and again shortly thereafter at a party. The couple's instant attraction is insatiable and genuine, but their romance is complicated by their being from very economically disparate sides of the tracks, and Hache's violent streak that keeps him constantly at odds with the law. Nominated for Best Screenplay at the Goya Awards 2011.
Discussion after film with actor Alvaro Cervantes

Buy tickets

Trailer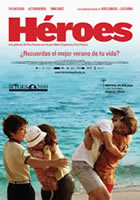 FOREVER YOUNG (HÉROES)
2010
Media Films, Televisió de Catalunya
105 min.
Dir. Pau Freixas
Cast: Álex Brendemühl, Eva Santolaria, Emma Suárez, Lluís Homar, Ferran Rull, Álex Monner, Mireia Vilapuig, Joan Sorribes, Marc Balaguer, Nerea Camacho
In Pau Freixas' sun-dappled gem of '80s nostalgia, pre-teen Xavi (Ferran Rull) spends his summer vacation with his usual group of friends - Cristo (Mireia Vilapuig), who has a crush on Xavi, nerdy yet hilarious Colo (Marc Balaguer), Roth (Joan Sorribes), who has Down syndrome, and the beautiful Helena (Nerea Camacho), who Xavi flirts with in the hopes of getting the mysterious "butterflies" his older brother has told him about. The summer progresses and the motley crew of middle schoolers are harrassed by an older group of bullies, while Xavi struggles with his relationship with his step-father. However, when a tragedy suddenly occurs, the young teens must face their first real trial of growing up. Winner of the Audience Award at the 2010 Malaga Film Festival.

Buy tickets

Trailer