GUESTS SPEAKERS

Carlos Saura


Manuel Gutiérrez Aragón


Gerardo Herrero


Carmelo Gomez


Manuel Gomez Pereira


César Benitez


Andrés Vicente Gómez


Aitana Sanchez Gijon


Angeles González Sinde


Maria Ripoll


Pilar Tavora


Elvira Lindo

FILMS [27 + shorts]
CARMEN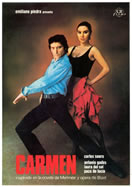 1983
102 min.
Dir. Carlos Saura
COSAS QUE DEJE EN LA HABANA (THINGS I LEFT IN HAVANA)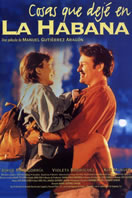 1998
110 min.
Dir. Manuel Gutiérrez Aragón
Prod. Gerardo Herrero
CRIA CUERVOS (RAISE CROWS)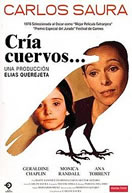 1975
115 min.
Dir. Carlos Saura
ENTRE LAS PIERNAS (BETWEEN YOUR LEGS)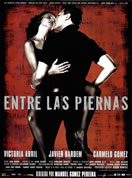 1998
121 min.
Actor Carmelo Gomez
Dir. Manuel Gomez Pereira
Prod. César Benitez
PERDITA DURANGO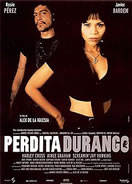 1997
126 min.
Dir. Alex de la Iglesia
Prod. Andrés Vicente Gómez
YERMA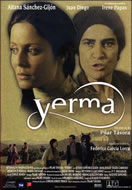 1998
114 min.
Dir. Pilar Távora
Act. Aitana Sanchez Gijon
SUS OJOS SE CERRARON... (TANGOS ARE FOR TWO)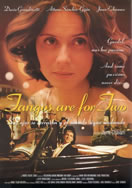 1998
94 min.
Dir. Jaime Chavarri
Act. Aitana Sanchez Gijon
LAGRIMAS NEGRAS (BLACK TEARS)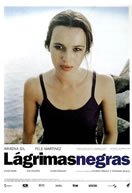 1998
104 min.
Dir. Ricardo Franco
Wri. Angeles González Sinde
LOS GOLFOS (THE HOOLIGANS)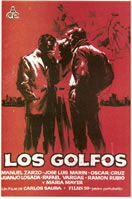 1959
86 min.
Dir. Carlos Saura
DEPRISA, DEPRISA (FAST, FAST)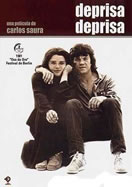 1981
98 min.
Dir. Carlos Saura
TWICE UPON A YESTERDAY (LLUVIA EN LOS ZAPATOS)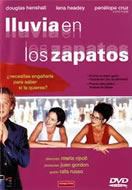 1998
Trimark
93 min.
Dir. Maria Ripoll
PEPPERMINT FRAPPE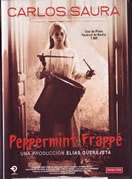 1967
94 min.
Dir. Carlos Saura
LA CAZA (THE HUNT)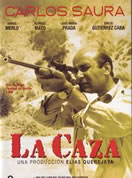 1965
88 min.
Dir. Carlos Saura
BARRIO (NEIGHBORHOOD)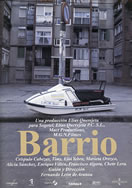 1998
99 min.
Dir. Fernando León
TORRENTE, EL BRAZO TONTO DE LA LEY (THE DUMB ARM OF THE LAW)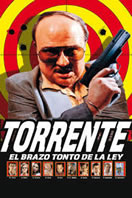 1998
99 min.
Dir. Santiago Segura
LA PRIMERA NOCHE DE MI VIDA (THE FIRST NIGHT OF MY LIFE)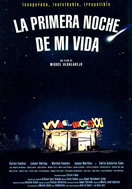 1998
Fox Lorber
85 min.
Director Miguel Albadalejo
Wri. Elvira Lindo
EL MILAGRO DE P. TINTO (THE MIRACLE OF P. TINTO)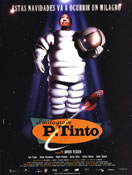 1998
106 min.
Dir. Javier Fesser
LOS AÑOS BARBAROS (THE STOLEN YEARS)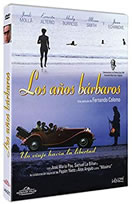 1998
120 min.
Dir. Fernando Colomo.
LA PRIMA ANGELICA (COUSIN ANGELICA)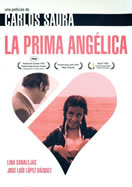 1973
105 min.
Dir. Carlos Saura
TREN DE SOMBRAS (TRAIN OF SHADOWS)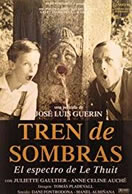 1997
80 min.
Dir. José Luis Guerin
EL DORADO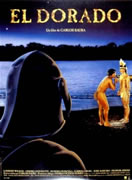 1987
151 min.
Dir. Carlos Saura
LA HORA DE LOS VALIENTES (TIME OF THE BRAVE)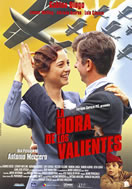 1998
117 min.
Dir. Antonio Mercero
EL AMOR BRUJO (LOVE, THE MAGICIAN)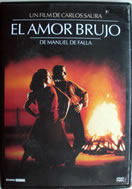 1986
103 min.
Carlos Saura
AY, CARMELA!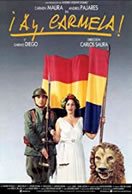 1990
105 min.
Dir. Carlos Saura
MENSAKA: Páginas de una historia (Pages Of A Story)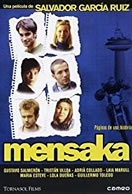 1998
105 min.
Dir. Salvador García Ruiz
BLOOD WEDDING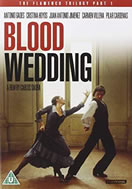 SEVILLANAS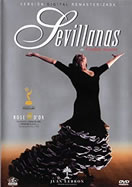 1992
52 min.
Dir. Carlos Saura

"RECENT SPANISH SHORTS" Program
Approx. 90 min. Six shorts by new directors, including: "Txotx", 15 min.
Dir. Asier Altuna & T. Esnal. A family dispute over meat leads to too much drink. "La Raya" (The Line), 28 min. Dir. Andrés M. Koppel. Set in the 1890's on the Canary Islands, this humorous historical drama concerns the changing of the zero meridian. "El Topo Y El Hada" (The Mole And the Fairy), 8 min. Dir. Grojo. A silent, surrealistic piece. "Por Un Infante Difunto" (For A Dead Infant), 8 min. Dir. Tineblas Gonzalez. A scathing look at the root of violence: the family. "Solo En La Buhardilla" (Alone In The Loft), 20 min. Dir. M.A. Rodriguez. An attic is the setting for the stages of a man's life. "Rufino", 14 min. Dir. Octavi Masiá.