ANITA TAKES A CHANCE (ANITA NO PIERDE EL TREN)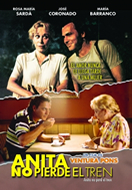 2000
81 min.
Ventura Pons' latest film is a tender comedy with an amazing performance by longtime collaborator Rosa María Sardá. Anita (Sardà) is forced into early retirement when the movie theatre where she worked as a cashier for the past 30 years is demolished. Every day, Anita goes back to the construction site to watch the demolition of her former home. Her gaze catches the muscular silhouette of a sexy young bulldozer driver (José Coronado). "Anita takes a chance," and the violence of an unexpected and secret erotic liaison brings back excitement to her life. Co-starring María Barranco (WOMEN ON THE VERGE OF A NERVOUS BREAKDOWN). Discussion with director Ventura Pons and actress Rosa María Sardá.
COMPASSIONATE SEX (SEXO POR COMPASION)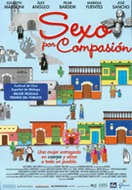 2000
107 min.
(Women In Spanish Cinema Showcase) directed by Laura Maña. A saint or a whore, and why not both? With this sweet comic fable the difference has never been so small. Dolores (Elisabeth Margoni) is left by her husband, Manolo (José Sancho) for being too virtuous and proper. Looking for a sin big enough to lure him back, the naïve Dolores becomes "Lolita," the village whore. Miraculously, the men get their strength back and the village its lively color. A deliciously poetic and surprising first feature by actress Laura Maña, with a strong cast from both Spain and Mexico. Discussion following with director & screenwriter Laura Maña.
PELLET (EL BOLA)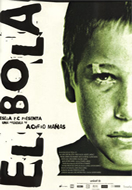 2000
88 min.
Was awarded the Spanish Goya for Best Film and Best New Director.. An admirable and subtle first feature by director Achero Mañas, PELLET is a powerful psychological portrait of teens and domestic violence. Pablo, nicknamed "El Bola" (Juan José Ballesta) finds a friend in his new classmate Alfredo (Pablo Galán). Alfredo's loving family is a welcome relief from Pablo's abusive home life. On a trip to the mountains, Alfredo discovers bruises on his friend's back, setting off a heart-wrenching chain reaction as Spain's social system tries to cope with the problem of domestic violence. Director and screenwriter Mañas explores the darkness of child abuse without a hint of cliché or sentimentality in this somber, beautifully acted drama.
COMMON WEALTH (LA COMUNIDAD)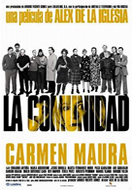 2000
106 min.
A Spanish box office sensation and winner of three Spanish Goyas, including one for Maura in a role de la Iglesia wrote for her. The director of DAY OF THE BEAST and DYING OF LAUGHTER, Alex de la Iglesia, returns with this nightmarish comic thriller about a tacky real estate agent, played by the fabulous Carmen Maura (WOMEN ON THE VERGE OF A NERVOUS BREAKDOWN), who discovers $15 million in lottery winnings in the apartment of a dead man. Word soon leaks out, and the greedy neighbors circle like vultures, desperate to get their hands on the treasure. A brilliant, gothic thrill ride of a movie, featuring Maura's best performance since WOMEN ON THE VERGE. "It could be a completely serious picture. It has moments of suspense, of terror, of action. But I can't help feeling an irresistible attraction for comedy." -- Alex de la Iglesia. Discussion with director Alex de la Iglesia.
PLENILUNIO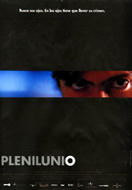 2000
119 min.
From one of Spain's finest filmmakers, Imanol Uribe (DIAS CONTADOS), PLENILUNIO is a stunning psychological thriller in the vein of Fritz Lang's classic "M", and a powerful portrait of damaged souls struggling to find themselves. An unhappily married detective (Miguel Àngel Solà) is assigned to hunt down a child killer – his investigation leads him to the dead girl's teacher, the lovely Adriana Ozores, recently separated from her own husband. Together, the two tentatively find love, while circling closer and closer to the sadistic killer (Juan Diego Boto). Beautifully scripted by noted writer Elvira Lindo (MANOLITO GAFOTAS), based on her husband Antonio Muñoz Molina's novel. "The film is a reflection on horror and love, which sometimes co-exist so close to one another." -- Imanol Uribe. Discussion with director Imanol Uribe.

"Women In Spanish Cinema Seminar" – Spielberg Theatre at the Egyptian. FREE. Join us for a lively discussion of the politics of being a female
filmmaker in Europe and the US.
VENTURA PONS IN-PERSONS TRIBUTE
BELOVED/FRIEND (AMIC/AMAT)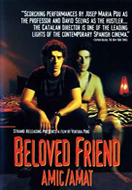 1999
90 min.
Dir. Ventura Pons.
A gay professor of medieval literature (Josep María Pou, in a remarkable performance) returns to Barcelona to die. As he reflects on his life and legacy, his thoughts turn to the two great loves of his life: his college friend (Mario Gas), now married with a grown-up daughter, and a nihilistic street hustler (David Selvas), who also happens to be the daughter's lover. Co-starring Rosa María Sardá (ANITA TAKES A CHANCE). "Pons' best film, and one of the most beautiful and adult in Spanish cinema." – Marcos Ordóñez, Fotogramas. In Catalan with English subtitles. Discussion following with director Ventura Pons and actress Rosa María Sardá.
WHAT'S IT ALL ABOUT? (EL PORQUE DE LAS COSAS)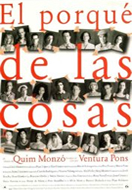 1994
92 min.
Directed by Ventura Pons. One of Pons' most ambitious and consistently delightful films, WHAT'S IT ALL ABOUT features 15 comic vignettes on modern morality, including "Competition," in which a man buys a telescope to spy on his next-door neighbor, and finds himself in an escalating sexual competition with her; "Willpower," where a man is determined to teach a stone to talk; "Desire," "Submission," "Jealousy" and more. Based on a collection of short stories by leading Catalan novelist Quim Monzó. With Lluis Homar, Mercè Pons, Anna Lizaran, Jordi Bosch, Sílvia Munt.
ACTRESSES (ACTRICES)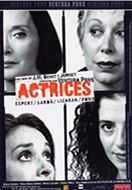 1997
100 min.
Shamelessly manipulative (and damn near irresistible), ACTRESSES is a beautifully crafted tearjerker in the vein of ALL ABOUT EVE. A young actress (Mercè Pons) researching to play the role of legendary star "Empar Ribera" winds up interviewing three of Ribera's surviving friends: an equally-legendary theatre diva, a successful (but bitter) TV comedienne, and a soft-spoken dubbing actress. Núria Espert, Rosa María Sardá and Anna Lizaran star as the three long-time friends who (of course) have their own grudges to resolve, with each other and with the long-dead Ribera.
OCAÑA, INTERMITTENT PORTRAIT (OCAÑA, RETRAT INTERMITENT)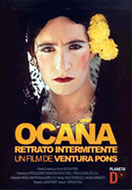 1978
90 min.
Pons' first film is also one of his most notorious (and popular), a brilliantly funny, no-holds-barred documentary on one of Barcelona's most outrageous drag queens, Ocaña, a flamenco diva/painter/performance artist who somehow managed to survive the ultra-repressive Franco years to emerge like some strange and wonderful exotic flower. A companion piece to subversive, post-Franco features like Aranda's CAMBIO DE SEXO and Almodovar's PEPI, LUCI, BOM.
THE BLONDE AT THE BAR (LA RUBIA DEL BAR)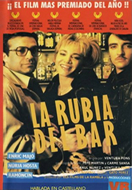 1986
90 min.
Gay pimps, upwardly-mobile hookers and pornographic photo-novels: BLONDE AT THE BAR has it all! Pons' deliriously un-hinged comedy of Barcelona low-lifes stars Enric Majó as a married businessman who falls under the spell of an ambitious prostitute (Núria Hosta) and her pimp Ortega (Romancín), who has a taste for young Arab boys.
TO DIE (OR NOT) - MORIR (O NO)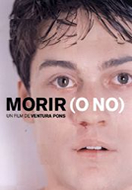 1999
92 min.
In the style of his earlier hits WHAT'S IT ALL ABOUT? and CARESSES, TO DIE (OR NOT) is a poignant, at times wickedly funny look at seven characters, who may (or may not) be on the verge of dying – a hospital patient unable to reach the alarm button, a business executive targeted by a hit man, a movie director suffering from mental and creative exhaustion, and more. With Lluis Homar, Anna Lizaran, Mercè Pons, Sergi López.
CARESSES (CARICIAS)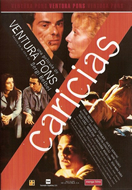 1997
104 min.
Dir. Ventura Pons.
Our series ends with Pons' restless, erotically charged series of 11 episodes, revolving around characters both straight and gay as they sexually (and emotionally) explore, abuse, dominate and submit to one another over the course of one long night in Barcelona. Hailed as one of the 10 Best Films of 1998 by the Village Voice's Elliot Stein. With David Selvas, Sergi López, Mercè Pons, Roger Coma, Rosa María Sardá.
YOYES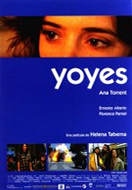 1999
104 min.
Women In Spanish Cinema Showcase.
The mesmerizing Ana Torrent (THE SPIRIT OF THE BEEHIVE, THESIS) stars in this quietly shattering drama of political and personal allegiances. Based on the story of the first woman to hold a position of power in the militant Basque group E.T.A., YOYES follows the once-radical Torrent as she returns from exile in Mexico with a young child and a desire to start a new life – her comrades in the movement, though, insist that she return to the fold, in writer/director Helena Taberna's uncompromising drama. Discussion following with director & screenwriter Helena Taberna.
MASTERPIECE (LA OBRA MAESTRA)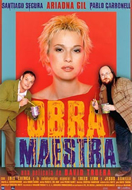 2000
115 min.
Dir. David Trueba.
John Waters' CECIL B. DEMENTED meets Almodovar's ATAME! in this gonzo comedy of a famous, drug addicted actress (Ariadna Gil) who is kidnapped by two retarded film buffs, Benito (Santiago Segura, from TORRENTE – THE DUMB ARM OF THE LAW) and Carolo (Pablo Carbonell), to act in their super 8 mm. film masterpiece. David Trueba's second feature is a wickedly funny homage to the horrors of filmmaking.
YOU'RE THE ONE – A STORY OF THE PAST (UNA HISTORIA DE ENTONCES)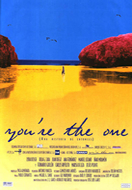 2000
111 min.
Winner of five Goya awards including one for Best Actor for veteran actor Juan Luis Galliardo. Spain's official submission for the 2000 Academy Awards, YOU'RE THE ONE is acclaimed director José Luis Garci's homage to classic Hollywood melodramas of the 1940's: a Barbara Stanwyck-like blonde, Julia (Lydia Bosch) retires to a remote country village to cope with her anguish at the imprisonment of her lover, a painter and political rebel. The remarkable friendship and resilient humor of the local people give Julia the strength to face the death of her lover, and go on with her life.
KASBAH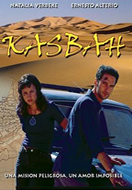 2000
99 min.
The latest feature from acclaimed young filmmaker Mariano Barroso (EXTASIS) is his best to date, a road movie/thriller set in the steamy kasbahs of Morocco. Ernesto Alterio stars as Mario, an expatriate Spaniard working for his father in Morocco, when he's saddled with chaperoning a half-sister he's never met (flirtatious teen star Elena Ballesteros). When his sister disappears, possibly murdered or kidnapped, Mario finds himself the target of the police, his father and a vengeful ex-Foreign Legionnaire hired to bring the girl home.
LEO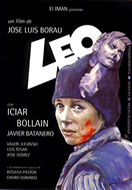 2000
86 min.
From master director José Luis Borau (subject of a 1998 Cinematheque retrospective), LEO is a beautifully acted, grimly realistic portrait of Madrid's forgotten underclass. Noted actress Iciar Bollaín (star of Borau's NIÑO NADIE) delivers a haunting performance as Leo, a homeless woman with a tormented past and a terrible secret to keep, who draws a sympathetic security guard (Javier Batanero) into a plot to take revenge on the man who abused her years earlier. Former Spanish Academy president, Borau won the Goya for Best Director.
ASFALTO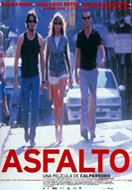 2000
90 min.
Jarring, brilliantly directed crime film/love triangle, a kind of Spanish version of Godard's BAND OF OUTSIDERS, from wildly talented young director Daniel Calparsoro (whose first film, JUMP INTO THE VOID, was featured in our 1996 series.) The gorgeous Najwa Nimri (OPEN YOUR EYES, LOVERS OF THE ARCTIC CIRCLE) stars as a thrill-seeking young woman caught in a criminal and sexual liaison with two petty thieves (Juan Diego Botto and Gustavo Salmerón). "I'm telling a love story as one could tell a holdup." -- Daniel Calparsoro.
THE BACK OF THE WORLD (LA ESPALDA DEL MUNDO)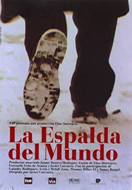 2000
89 min.
Dir. Javier Corcuera.
Winner of the International Critics Prize at the San Sebastian Film Festival, THE BACK OF THE WORLD is a disturbing, inescapable documentary about the ways in which societies literally crush their own citizens into submission. Told in three parts, focusing on child exploitation, political imprisonment and capital punishment, the film follows an 11-year old Peruvian boy in Lima, a Kurdish refugee whose wife is in a Turkish jail on trumped-up charges, and a Texas death row inmate whose execution has been delayed 11 times.
FRIENDS HAVE REASONS (LAS RAZONES DE MIS AMIGOS)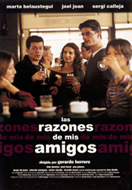 2000
85 min.
From producer-turned-director Gerardo Herrero (COMANCHE TERRITORY), FRIENDS HAVE REASONS is a subtle, adult drama about the effect money has on long-term friendships. A cash-strapped computer entrepreneur, Carlos (Sergi Calleja) asks his two college friends (Marta Belaustegui and Joel Joan) for a loan one night at their monthly get-together. They quickly agree, but as the months go by and Carlos is still unable to repay the loan, the seemingly unshakable friendships start to bend and then crack under the strain. Written by Angeles González-Sinde (SECOND SKIN).
WHAT YOU NEVER KNEW (AUNQUE TU NO LO SEPAS)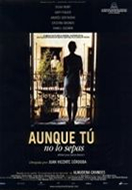 2000
119 min.
Dir. Juan Vicente Córdoba.
An elegant and nostalgic love story, reminiscent of Krzysztof Kieslowski's "A Short Film About Love": Lucia (Silvia Munt) has just moved back to the flat where she grew up, and recognizes Juan (Gary Piquer), the neighbor who used to watch her through binoculars when they were teenagers. Now in their 40's, the memory of their aborted love hasn't faded, and Lucia looks for every way to revive the old feelings.
I KNOW WHO YOU ARE (SÉ QUIÉN ERES)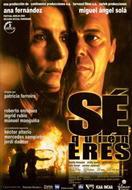 2000
100 min.
Paloma (Ana Fernández), a psychoanalyst recently attached to a mental institution in Galicia, becomes fascinated by one of her patients, Mario (Miguel Angel Solá), suffering from Korsakof's Syndrome – a sudden loss of short-term memory. Attempting to cure him, the analyst uses isolation, heavy drugs, and even sex to shock his memory back – she succeeds only too well, unleashing his repressed memories of a dark and murderous past. A tense, erotic thriller from first time director Patricia Ferreira.
REGARDING BUÑUEL (A PROPOSITO DE BUÑUEL)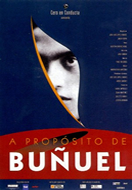 2000
90 min.
From José Luis López-Linares and Javier Rioyo, the co-directors of ASSAULT THE SKIES (featured in our 1997 series), REGARDING BUÑUEL is a revealing, beautifully fractured portrait of Spain's most acclaimed (and reviled) filmmaker, a master of the surreal and grotesque, told in archival photos, film clips and interviews with Buñuel's surviving friends and colleagues.
"RECENT SPANISH SHORTS" PROGRAM
The following films will be screened, although not necessarily in the order below.

Miguel Diez Lasangre's "Animal" (9 min.) Award- winning animated short about a man's dream of a Stone Age hunting ritual.

Ramon Salazar's "Fungi" (Hongos) (20 min.) A riotous look at one woman's reaction when realizing she accidentally slept with her ex-boyfriend. Our star, Monica Cervera, is a dead ringer for one of Almodovar's early heroines.

David Pujol's "Stockholm" (15 min.) A remarkable journey about a good deed and the price paid for that deed.

Ane Munoz Mitxelena's "El Pan De Cada Dia" (Daily Bread) (11min.) A very black tale of a woman, for whom time has stopped.

Alber Pontes "Una Luz Encendida" (A Light in the Sunrise) (22 min.) A mature look at a couple's faltering marriage and the surprise that changes them forever.

Antonio Hen's "En Malas Companias" (Doors Cut Down) (17 min.) A teenage boy cruises his town with a vengeance. A hit at Outfest.