THE INVISIBLES (LOS INVISIBLES)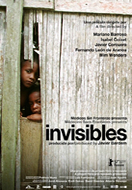 2007
Approximately 90 min.
The latest collection of short films directed by established filmmakers, compiled and produced by Javier Bardem and premiering at the Berlin Film Festival 2007. Each filmmaker examines the world's neglected problems and the people suffering from them. Directors are Mariano Barroso (EXTASIS); Isabel Coixet (THE SECRET LIFE OF WORDS); Javier Corcuera (THE BACK OF THE WORLD); Fernando León de Aranoa (LOS LUNES AL SOL) and Wim Wenders (THE WINGS OF DESIRE).
ALATRISTE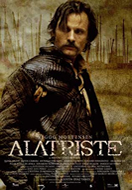 2006
135 min.
Dir. Agustín Díaz Yanes.
Viggo Mortensen (THE LORD OF THE RINGS, A HISTORY OF VIOLENCE) stars as the brooding, irresistible Captain Alatriste, 17th century soldier, mercenary and lover, in this superb adaptation of the historical novel by Arturo Perez-Reverte. The plot twists and turns like a dark river, covering 20 years from the wars in Flanders to France - and along the way Alatriste crosses paths with characters real and fictional including actress María de Castro (Ariadna Gil, PAN'S LABYRINTH), the Count-Duke of Olivares (Javier Camara), poet Francisco de Quevedo (Juan Echanove) and others. Discussion with actors Unax Ugalde and Viggo Mortensen (ALATRISTE)
SALVADOR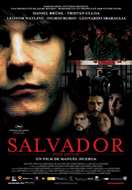 2006
134 min.
Dir. Manuel Huerga.
The film retraces the last twelve hours of Salvador Puig Antich (Daniel Brühl), the last political prisoner executed by garrote during the Franco regime, as he receives visits from family and friends. From a student protestor, Salvador becomes an active militant in the resistance movement, but gets caught and condemned to death after a series of bank robberies. A superb performance by German actor Daniel Brühl (GOOD BYE LENIN!). A haunting film.
THE MAIDENS' CONSPIRACY (TIRANTE EL BLANCO)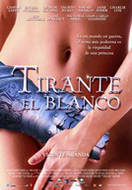 2006
120 min.
The Byzantine emperor asks the legendary brave knight Tirant for his help against the Turks. Thanks to his courage and military prowess, the Turks are defeated. But Tirant's strength is not enough against the intrigues swirling about the Imperial Court. Director Vicente Aranda's latest film is the sweeping adaptation of the famous novel, Tirant Lo Blanc. A major co-production staring Leonor Watling, Victoria Abril, Giancarlo Giannini, Ingrid Rubio, and as Tirant and Carmesina, newcomers Caspar Zafer and Esther Nubiola. Discussion with director Vincente Aranda and actresses Esther Nubiola and Ingrid Rubio.
DARKBLUEALMOSTBLACK (AZULOSCUROCASINEGRO)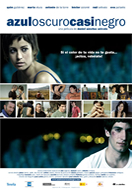 2006
115 min.
Dir. Daniel Sánchez Arévalo.
The astonishing debut feature from this director/writer quickly evolves into one of the most surprising and irresistibly moving Spanish dramas. A bitter young man works as a janitor and looks after his stroke-impaired father; meanwhile his older brother is in jail, where he falls in love with a female prisoner who is desperate to get pregnant. Except the older brother is impotent, so he asks the younger one to sleep with her in his stead. Meanwhile the janitor's slacker best friend discovers his own dad is visiting a male masseur and starts blackmailing his father. Brilliantly funny but emotionally honest all the way, the movie just gets better and better as it goes along. Starring Quim Gutierrez, Marta Etura, Antonio de la Torre, Eva Pallares.
CHANGE OF SEX (CAMBIO DE SEXO)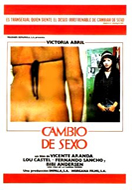 1976
108 min.
Dir. Vicente Aranda.
Tired of being called the prettiest boy in class and bullied by his ultra-macho father, José María (Victoria Abril) runs off to Barcelona – where he/she is soon cruising the clubs as vivacious María José! Based on a true story (and co-starring real-life transsexual Bibi Andersen), the film triumphs as both surreal comedy and sympathetic drama; you may laugh, but there are no cheap jokes here. Director Vicente Aranda introduced the screening.
THE BILINGUAL LOVER (EL AMANTE BILINGUE)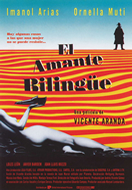 1993
93 min.
Dir. Vicente Aranda.
Juan (Imanol Arias), the impoverished son of a Chinese magician, discovers that his aristocratic Catalan wife (Ornella Muti) has been cheating on him. Spiraling into despair, Juan is disfigured by a Molotov Cocktail – and reborn as a mesmerizing, one-eyed ladies' man named "Faneca." A hilarious, sexually-charged satire on obsessive love, language, revolution and class barriers, this is pure Aranda from start to finish. Director Vicente Aranda introduced the screening.
CROSSING THE BORDER (UN FRANCO 14 PESETAS)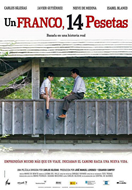 1960
105 min.
Dir. Carlos Iglesias.
A powerful directorial debut by television actor Carlos Iglesias on a rarely depicted theme in Spanish Cinema: the migration to other European countries to find a job, the stark reality facing so many Spaniards in the 1950's and 1960's. Leaving their families behind, Martín (Carlos Iglesias) with his friend Marcos, tries his luck in Switzerland. Arriving in the picturesque Swiss village, they are confronted by the mysterious habits of the locals. As their families joins them, they again have to assimilate. A touching and powerful film.
THE NEAR EAST (EL PROXIMO ORIENTE)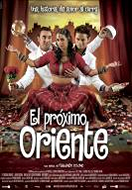 2006
95 min.
Dir. Fernando Colomo.
In the best example yet of his style, director Fernando Colomo returns with a genuine and lovely social comedy about Islam and multiculturalism. Good hearted butcher Cain (Javier Cifrian) takes responsibility for his brother Abel's born out of wedlock child by marrying pregnant Aisha, the daughter of Bangladeshi restaurant owners Shakir and Samaah. Discussion in between films with actress Nieve de Medina (CROSSING THE BORDER).
LOVERS (AMANTES)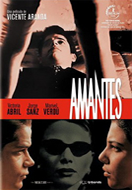 1991
105 min.
One of director Vicente Aranda's biggest international successes and a ferocious summary of his favorite themes, starring the unbeatable trio of Victoria Abril, Jorge Sanz and Maribel Verdú as a doomed romantic triangle. Abril's Luisa is one of the strongest femme fatales to ever hit the screen: her graphic sex scenes with Sanz are an amazing display of power and domination. "The ease and speed with which this perfect future collapses is the sardonic subtext of Mr. Aranda's dark, romantic melodrama, which is said to be based on a true story and is certainly one that could never have been made as a movie in Franco's day… The film's manner is dispassionate.
FREEDOM FIGHTERS (LIBERTARIAS)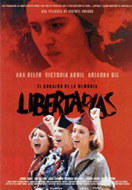 1996
130 min.
Director Vicente Aranda's juicy, highly entertaining drama of three women fighting for equality during the Spanish Civil War. A young nun (Ariadna Gil) is forcibly recruited into the Red Brigade by two tough-talking soldiers (Victoria Abril and Ana Belen) – they quickly discover that war is not only chaos, but an oppressively macho business. Abril is terrific as the anarchist/spiritualist Floren, possessed by inner voices and firmly convinced that Jesus was a woman. "…therein lies LIBERTARIAS' true triumph: Aranda's willingness to let his characters retain their own belief systems, even in the face of larger considerations.
THE RAILROAD ALL STARS (ESTRELLAS DE LA LINEA)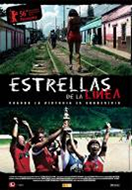 2006
94 min.
Director Chema Rodríguez's in-your-face documentary follows the feisty Railroad All Stars, a totally female soccer team formed in 2004 from inhabitants of one of Guatemala's worst ghettos. As if the odds were not stacked high enough against them, the women are also prostitutes, and they have organized their team to draw attention to their ongoing exploitation by a hypocritical macho society that routinely beats, robs and even murders them. Their introduction into the world of soccer, as they begin to play other local teams, causes an uproar. Middle class society wants them banned, but the girls also find occasional support from sometimes surprising quarters, including a few of the media representatives covering their story.
THE GREAT MATCH (LA GRAN FINAL)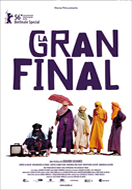 2006
88 min.
Dir. Gerardo Olivares.
This stunning comedy set in Mongolia, Niger and the Amazon, follows the extraordinary effort of three indigenous groups to see the 2002 final soccer World Cup between Germany and Brazil. In the vast meadow of Mongolia's Altai Mountains, a group of riders returns to the family tent with their eagles in order to watch the game but first they need to connect their TV to the power line. In Niger's Tenere desert, Tuareg Hassan leaves his caravan of camels and joins a truckload of people, convincing them to reroute to an "iron tree" to connect his TV in time for the start of the game. The funniest of all, soccer-shirt wearing tribal hunter Xama is trying to set up a TV set and an ancient dynamo in his compound in the Brazilian jungle. National Geographic lovers and soccer fans will unite in this delicious movie.
WELCOME HOME (BIENVENIDO A CASA)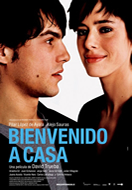 2006
118 min.
Director/writer David Trueba returns with this wry, wistful look at the unpredictable changes of being young, in love and employed in modern Madrid. Alejo Sauras stars as Samuel, a novice newspaper photographer who's just moved in with his long-time girlfriend, Eva (Pilar López de Ayala, JUANA LA LOCA). But will their romance survive being in such close quarters (even if they have separate bedrooms)? The supporting cast features some of Spain's finest actors including Ariadna Gil (PAN'S LABYRINTH), Juan Echanove and Jorge Sanz (BELLE EPOQUE).
MY NAME IS JUANI (YO SOY LA JUANI)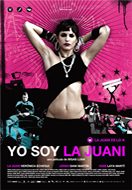 2006
92 min.
Director Bigas Luna's newest effort focuses on Veronica Echegui as the effervescent and irrepressible Juani, a girl from the provinces sick of her slacker father, apathetic mother and the appallingly poor specimens who serve as prospects for boyfriends. When her best friend, Vani (Laya Marti) is beaten up by her guy (Gorka Lasaosa) and Juani finds her own nearly-simian beau Jonah (Dani Martin) is being unfaithful, the two head for Madrid to find their fortunes. While Vani has the modest ambition of getting breast enhancement, Juani has serious aspirations to becoming an actress, and we witness as she undergoes a series of tragi-comic trials and tribulations.
WHAT I KNOW ABOUT LOLA (LO QUE SE DE LOLA)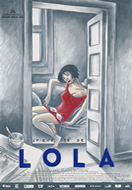 2006
112 min.
Director Javier Rebollo's touching study of two lonely souls is suffused with a gentle, melancholy humor. Wallflower Frenchman Leon (Michael Abiteboul) lives a life of quiet desperation with his bedridden mother, resigned to his emotionally barren life. When his mother dies, he begins to notice his next door neighbor, Lola (Lola Duenas), a vivacious Spanish woman who occasionally appears on his local amateur porn channel. Rebollo's film explores with brilliant simplicity the phenomenon of how people in a big city – people surrounded by millions of other people – can be dying inside from emotional starvation, unable to make the simple gesture of reaching out.
CELIA'S LIVES (LAS VIDAS DE CELIA)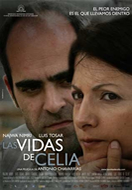 2006
101 min.
Director Antonio Chavarrias' mystery unfolds like an intricate patchwork quilt, showing the effects of a teenage girl's murder on the family of the dead girl's best friend, Angela (Aida Folch). Angela's big sister Celia (Najwa Nimri) has had other disheartening news as well, and it becomes clear that not only she, but her moody husband, Agustín (Daniel Gimenez Cacho, ARO TOLBUKHIN) have their own secrets to hide. Reliable Luis Tosar is the dogged police detective who patiently canvases the neighborhood trying to unravel the ever more confusing puzzle.
THE NIGHT OF THE SUNFLOWERS (LA NOCHE DE LOS GIRASOLES)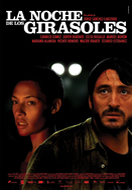 2006
123 min.
This dark, engrossing thriller from director/writer Jorge Sánchez-Cabezudo has overtones of 21 GRAMS and IRREVERSIBLE with its intersecting storylines and moments of startling violence. The mystery begins with the rape/murder of a young woman in a field of sunflowers... We meet a number of people who seem to have no connection to each other or the crime -- and then slowly, chapter by chapter, their lives start to interlock in inexorable ways. With Carmelo Gómez (DIAS CONTADOS).