Fernando Trueba Tribute
OPERA PRIMA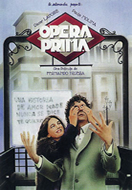 1980
94 min.
Fernando Trueba's first feature film ("opera prima" literally translates as first feature, as well as first cousin) was an immediate success and created a new genre called the "comedia madrileña" ("Madrid comedy"). The loquacious 25-year-old Matias (Oscar Ladoire) meets his gorgeous, 18-year-old cousin Violeta (Paula Molina) at the Plaza de Opera in Madrid, and soon after, the two move in together. Matias' new-found happiness is soon threatened, though, when he finds himself consumed with jealousy over the handsome young composer Violeta practices violin with. Co-starring Antonio Resines as Matias' eccentric, macho friend. Discussion with director Fernando Trueba.
BELLE EPOQUE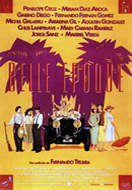 1992
108 min.
Winner of the Academy Award for Best Foreign Film. Trueba's deliciously sinful comedy stars Jorge Sanz as a Spanish army deserter in 1931 who's given sanctuary by a crusty hermit (Fernando Fernán-Gómez) with four spectacularly beautiful daughters (played by Maribel Verdu, Ariadna Gil, Miriam Díaz-Aroca, and in one of her first films, Penélope Cruz). Discussion with director Fernando Trueba.
LA NIÑA DE TUS OJOS (THE GIRL OF YOUR DREAMS)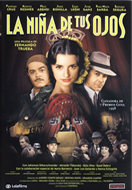 1998
121 min.
Spanish sensation Penélope Cruz (OPEN YOUR EYES) stars as the girl of EVERYONE'S dreams, in this high-spirited comic drama about a troupe of Spanish actors sent to Berlin in the 1930's to shoot a movie at U.F.A. studios. Here, Trueba beautifully orchestrates a cast of stellar talents – including Jorge Sanz, María Barranco, Antonio Resines and Santiago Segura – as the Spaniards hop from soundstage to bedroom. Cruz's red-hot flamenco number may make you forget about Rita Hayworth in GILDA!
SÉ INFIEL Y NO MIRES CON QUIÉN (MOVE OVER, MRS. MARKHAM)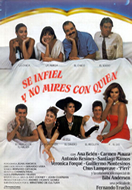 1985
94 min.
Adapted from a successful theatre play, SE INFIEL Y NO MIRES CON QUIEN is a classic slapstick comedy of adulterous affairs and mistaken identities. In a desperate attempt to save their book publishing company, Paco (Santiago Ramos) and Fernando (Antonio Resines), manage to contract Spain's best-selling author, Adela Mora (Chus Lampreave). On the evening of the official signing, business and love affairs get mixed in a storm of misunderstanding involving Paco, his wife (the great Carmen Maura, from WOMEN ON THE VERGE OF A NERVOUS BREAKDOWN), his new mistress (Bibi Andersen), Fernando and his wife (Ana Belén) and more.
EL SUEÑO DEL MONO LOCO (MAD MONKEY)
1989
105 min.
Trueba's first film shot in English stars Jeff Goldblum as Dan Gillis, an American writer living in Paris who's approached to write a screenplay for pretentious young auteur/genius Malcolm. Accepting only because of his attraction - soon to become an obsession - for Malcolm's young sister Jenny (Liza Walker), Dan sees his life dangerously changed as he plunges in a web of incest, desire and ambition. Trueba's noirish adaptation of Frank Christopher's novel won the 1989 Spanish Goya for Best Film. Co-starring Miranda Richardson (DANCE WITH A STRANGER).
JUANA LA LOCA (MADNESS OF LOVE)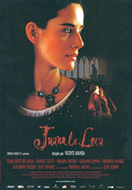 2001
117 min.
Spain's official submission for the 2001 Academy Awards for Best Foreign Film, JUANA LA LOCA is the latest from acclaimed Spanish director Vicente Aranda (LOVERS, LIBERTARIAS), a sweeping historical portrait of legendary 16th century queen "Juana the Mad" (played with fiery gusto by actress Pilar López de Ayala, Goya Award Winner for Best Lead Actress.) Following an arranged marriage to Prince Felipe of Flanders (Italian hunk Daniele Liotti), Juana is whisked off to court at Brussels where she's expected to be a meek and obedient wife – they've seriously misjudged Juana, though, and she uses every means at her disposal (sexual and otherwise) to assert her independence. Discussion with director Vicente Aranda.
FAUSTO 5.0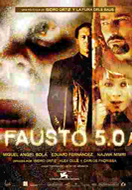 2001
94 min.
directed by Isidro Ortiz and "La Fura Dels Baus." A brilliantly macabre, illusory travelogue and updating of Goethe's Faust, FAUSTO 5.0 has some of the most poetically creepy images since the heyday of seventies Euro horror cinema. In the very near future, Dr. Fausto (Miguel Angel Sola) is a stressed-out cancer surgeon wandering in a morbid haze. When he unexpectedly runs into mysterious former patient, Santos at an out-of-town convention, he's forced to re-examine his very reason for living when the fast-talking hustler proceeds to grant him his every wish. This initial film by the renowned Catalan theater group "La Fura Dels Baus" is an astounding achievement. Co-starring acclaimed actress Najwa Nimri (SEX & LUCIA). Discussion with director Eduard Fernandez.
VOLAVERUNT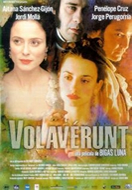 1999
90 min.
Four of Spain's finest actors – Aitana Sánchez-Gijón, Penélope Cruz, Jordi Mollá and Jorge Perrugorría – light up this gorgeous, seductive historical mystery from the maestro Bigas Luna. Following the death of the beautiful Duchess of Alba (Sánchez-Gijón) in 1802, her former lovers, including the painter Goya (Perrugorría) and the Prime Minister, Godoy (Mollà), try to uncover the silken web of deceit, adultery and court intrigue that led to her murder. Cruz stars as the lovely Pepita, one of the Prime Minister's mistresses – and a prime suspect in the Duchess' death. Inspired by Goya's infamous nude and clothed portraits of the Duchess of Alba, VOLAVERUNT shows Luna at his best – erotic, oversaturated, thoroughly unpredictable.
TORRENTE 2 – MISSION IN MARBELLA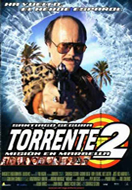 2001
98 min.
Dir. Santiago Segura.
Once again, madman director/actor Santiago Segura – after turning the first TORRENTE farce, THE DUMB ARM OF THE LAW, into one of the highest-grossing films in Spanish box-office history – delivers an encore performance as the deluded, maverick slob of an ex-cop bent on perpetual self-gratification. A hellzapoppin gross-out fest peppered with visual puns, slapstick riots and the darkest, politically incorrect humor erupts as Torrente tries to keep a microchip capable of blowing up his new resort hometown Marbella from rich megalomaniac Spinelli (José Luis Moreno) and crime kingpin, Mauricio (Tony LeBlanc) -- who may just turn out to be Torrente's real father! Discussion with director Santiago Segura.
VISIONARIOS (VISIONARIES)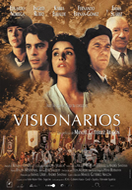 2001
112 min.
Dir. Manuel Gutiérrez Aragón
(HALF OF HEAVEN, THE HEART OF THE FOREST) returns to the rural setting of many of his finest films for this superb exploration of religious fervor and political manipulation in the Basque country in the 1930's. Heart-throb Eduardo Noriega (OPEN YOUR EYES) stars as Joshe, a young man from the town of Ezkioga who finds himself torn between two women – his fiancee (Leire Ucha) and a maid at the local tavern (Ingrid Rubio) – both of whom claim to have seen a vision of the Virgin Mary on a nearby hillside. Soon, Ezkioga and the townspeople are overwhelmed by outsiders seeking to share in – or exploit – the girls' miraculous vision. Co-starring Emma Suárez, Fernando Fernán-Gómez and Karra Elejalde.
MAS PENA QUE GLORIA (NO PAIN, NO GAIN)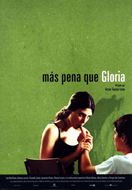 2001
91 min.
Emerging director García León (son of veteran director José Luis García Sánchez) and co-writer Jonas-Groucho (Fernando Trueba's son) deliver a remarkable, bittersweet comedy about a teenager entering the world of love, sex and obsession. 16-year-old Madrid native David (Biel Duran) falls in love at first sight with gorgeous schoolmate, Gloria (Barbara Lennie). Looking for every occasion to be with her, David goes to the painful extreme of having his teeth done by her dentist mother (Alicia Sánchez), searching Gloria's garbage and collecting the peels of a banana she's been eating. Very funny moments abound with David's intrusive mother Carmen (Asuncion Planas) as well as his senile, embittered grandmother, Teresa (María Galiana).
BUÑUEL Y LA MESA DEL REY SALOMÓN (BUÑUEL AND KING SOLOMON'S TABLE)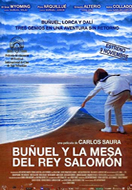 2001
103 min.
Legendary filmmaker Carlos Saura (CARMEN, GOYA IN BOURDEAUX) pays tribute to his close friend and mentor, director Luis Buñuel, in this ambitious mystical allegory. Late in life, Buñuel (played by El Gran Wyoming) is approached to direct an Indiana Jones-style adventure about the search for King Solomon's fabled Table, a mirror that allows the viewer to see into the future. While visualizing the film, Buñuel slips back in time and memory to the early 1930's, where he and friends Salvador Dalí (Ernesto Alterio) and Federico García Lorca (Adria Collado) embark on their own mystical quest for Solomon's Table in the winding back-alleys and subterranean passages of Toledo.
LUCIA Y EL SEXO (SEX AND LUCIA)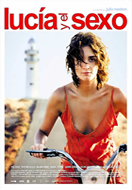 2001
129 min.
From the director of TIERRA and LOVERS OF THE ARCTIC CIRCLE, Julio Medem. LUCIA Y EL SEXO is a surreal, graphically erotic story of a Spanish writer (Tristan Ulloa) and his relationships with three women – a waitress, Lucia (Paz Vega Goya Award Winner for Best New Actress); a one-night stand, Elena (Najwa Nimri) who conceives his child; and his daughter's babysitter, Belen (Elena Anaya). Medem mixes past and present, fiction and reality to create a portrait of obsessive love as refracted through the writer's consciousness.
LA ISLA DEL HOLANDES (THE DUTCHMAN'S ISLAND)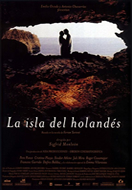 2001
107 min.
A beautiful first feature of intrigue and romance from film critic Sigfrid Monleon Pradas, THE DUTCHMAN'S ISLAND is set in the late 1960's, when a university teacher, Luis (Pere Ponce) is sent into political exile on a luminous island. Luis' urge to escape slowly fades as he becomes involved with the island's inhabitants who are torn between closing the local salt mine and selling the island to a German tourism group. This secluded paradise becomes even more troubled with the arrival of a French policeman searching for a notorious killer called "The Dutchman"
EN CONSTRUCCION (WORK IN PROGRESS)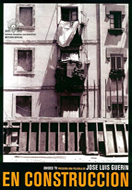 2001
125 min.
José Luis Guerin's (TREN DE SOMBRAS) enchanting visual essay on the transformation of Barcelona's popular neighborhood "Barrio Chino" has the same kind of warmth, generous humanity and humor as Agnes Varda's THE GLEANERS AND I. Awarded the International Critics' Prize at this year's San Sebastian Film Festival, WORK IN PROGRESS joyfully records the construction of a building, interlacing sequences of the inhabitants' everyday life: kids playing soccer, workers flirting, a squatting, drug-addicted couple and the remarkable discovery of a 6th century Roman mass grave. An amazing achievement in editing, and a beautiful gem of a film!
DAMA DE PORTO PIM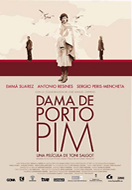 2001
88 min.
Set in late 1944, this visual treat from director José Antonio Salgot (ESTACIÓN CENTRAL) stars the stunning Emma Suárez (EL PERRO DEL HORTELANO) as the sophisticated Lucia, who arrives on Porto Pim Island in the Azores on her way to Argentina. While waiting for her French lover to join her, Lucia is caught in a storm of passion with local whale hunter Lucas (Sergio Peris-Mencheta). The mercurial Lucia and the obsessed Lucas's affair soon turns to heartache in this tragic portrait of ill-fated love.
PAU Y SU HERMANO (PAU AND HIS BROTHER)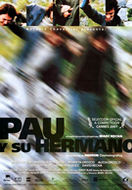 2001
112 min.
Catalan director Marc Recha's third feature, shot all-handheld with mostly natural light, is one of the highlights of this year's series. After his brother's suicide, Pau (David Selvas) and his mother, Merce (Alicia Orozco) travel to the virtually deserted village in the Spanish Pyrenees where the deceased Alex had spent his mysterious last years, and meet with the people who knew him well. A sparkling, elliptical tale on the effects of a loved one's death, filled with raw emotions as well as laughter, in the style of Abbas Kiarostami. With splendid performances all around, PAU AND HIS BROTHER was an Official Selection of the 2001 Cannes Film Festival.
SILENCIO ROTO (BROKEN SILENCE)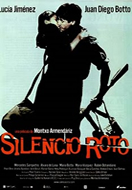 2001
110 min.
From Montxo Armendariz, the director of the 1998 Oscar-nominated SECRETOS DEL CORAZON, SILENCIOS ROTO is a poignant and visually stunning tribute to the freedom fighters called the "maquis," the anti-Franco guerrillas of the mountains who continued to fight after the Fascists won the Civil War. In the fall of 1944, 21-year-old Lucía (the lovely Lucia Jimenez) arrives in a mountain village torn apart by local rivalries to work at the bar of her aunt Teresa (Mercedes Sampietro). When Lucia's sweetheart, Manuel (Juan Diego Botto) runs into the woods to join his father in the Maquis' fight, Lucia is forced to choose sides. Armendariz memorably captures the psychology of fear, creating an intense, complex portrait of post-Civil War Spain.
NOSOTRAS (WOMEN)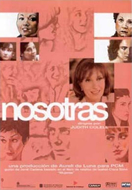 2000
89 min.
Director Judith Colell delivers a deliciously amusing view on modern Spanish women through a complex web of seven sardonic stories. All set in Barcelona, the witty tales include the portrait of Andrea (the amazing Mercedes Sampietro) at her therapy session complaining about her husband, Emilio (Emilio Gutierrez Caba); Neli (Carmen Balague) counseling her friend, Sofía (Laura Cepeda) on how to save her marriage; the matriarchal Magdalena (hilarious Julieta Serrano) reproaching her daughter, Teresa (Cristina Baeza) for being no good in bed; and Paca (Eulalia Ramon) desperately trying to buy her son a new pair of fashionable training shoes.
SALVAJES (SAVAGES)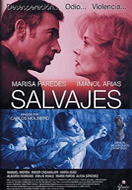 2001
97 min.
Dir. Carlo Molinero.
Marisa Paredes (ALL ABOUT MY MOTHER) ignites the screen as fiery Berta, a middle-aged nurse trying to raise her two skinhead nephews (Roger Casamajor and Alberto Ferreiro) and drug addict niece (María Isasi, as well as carry on a tumultuous romance with alcoholic cop, Eduardo (Imanol Arias). The paths of all four cross when Eduardo begins investigating the near-fatal beating of an illegal immigrant drug dealer. Berta is forced to pluck her head from the sand as the go-for-broke behavior of everyone around her reaches critical mass. Molinero incisively explores Spain's plight of hidden racism and disaffected youth with an unflinching eye. Lola Salvador Producer & Screenwriter of SALVAJES will appear in person for discussion.
NOMADAS (NOMADS)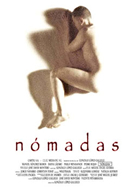 2001
96 min.
Directed by Gonzalo López-Gallego. Nearly autistic, psycho man-child, Alex (Manuel Sánchez Ramos) works as a solitary tow-truck driver and pines over his photo album -- when he's not busy bludgeoning customers to death on lonely stretches of highway. Encountering miscreant siblings Barba and Calvo (Pablo Menasench and Pedro Rojas), who've kidnapped a lonely waif, Sara (Diana Lazaro), he's presented with the unique opportunity of not just human interaction, but heroism in López-Gallego's pitch-black stew of surreal influences that range from David Lynch and Michael Haneke to Michael Powell's PEEPING TOM.
LENA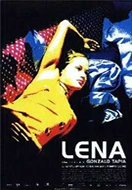 2001
108 min.
Dir. Gonzalo Tapia.
Eighteen year old, Lena (Marta Larralde) lives with her criminal, alcoholic father, Gorrion (Manuel Manquina). When Lena finds Gorrion severely beaten, she offers to work with the local drug-smuggling Mafiosi to pay off her father's debt. This strong drama about being a teenager showcases a superb performance by newcomer Marta Larralde, a combination of innocence and toughness.
EL PALO (THE HOLD-UP)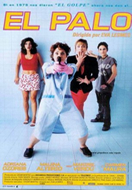 2001
87 min.
Dir. Eva Lesmes.
Adriana Ozores sparkles as Lola, an attractive, spunky single mom caught up in a dead end job, who suddenly sees her way out when she gets to know a crooked bank manager with plans to rob his shady money-laundering clients. Of course, get-rich schemes often hit snags, and EL PALO continues this tradition in uproariously contemporary fashion. Co-starring Carmen Maura (WOMEN ON THE VERGE OF A NERVOUS BREAKDOWN) as Lola's neurotic, narcissistic friend Maite, this highly amusing souffle also features the talents of lovely Maribel Verdu (GOYA IN BOURDEAUX) and Malena Alterio.
SCHOOL KILLER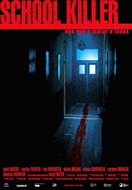 2001
90 min.
Dir. Carlos Gil.
Famed 1970's Spanish horror star Paul Naschy (aka Jacinto Molina), a major European icon whose work is criminally unknown in the U.S., is back in fine form as the maniacal ghost of an especially cranky caretaker at an abandoned boarding school. Adventurous students, determined to unravel the mystery of another youthful bunch slaughtered at the school by Naschy many years before, endure a harrowing night of terror in this brutally straightforward but very atmospheric spine-tingler. With Elena Candorcio and Antonio Arenas.
"RECENT SPANISH SHORTS" PROGRAM
The following films will be screened, although not necessarily in the order below.

David Ultrilla's "DOLLS" (14 min.) Intense nail-biting thriller sure to put you off from picking up strangers OR hitchhiking.

Gustavo Salmeron's "SALAD DAYS" ("Desalinada, "21 min.) A sweet, original look at love between the species. You'll never look at dinner the same way again!

Guido Jimenez's "HASTA AQUI HEMOS LLEGAO, DESDE EL VATICANO, CON AMOR" ("As Far Out As Here, From the Vatican With Love," 17 min.) Light, stylish retake of that favorite genre, film noir.

"Manu Gomez's "HILARRI" (8 min.) Lovely look at a nurse who revisits the grave of someone she "met" during the war.

Luis Prieto's "BAMBOLEHO" (14 min.) Inspired by Italo Calvino's "The Baron in the Trees", a sad, poignant story of found family.

Fernando Trueba's "EL LEON ENAMORADO" ("The Lion's Love", 6 min.) One of this celebrated director's early short films.

Rodrigo Pla's "THE EYE OF THE NAPE" (18 min.) Set in Uruguay and Mexico, this powerful, timely drama, deals with the consequences of revenge, loss & fate. Stars Gael García Bernal, Octavio from AMORES PERROS.