SOLITARY FRAGMENTS (LA SOLEDAD)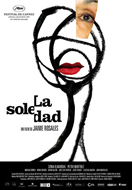 2007
128 min.
Dir. Jaime Rosales.
Follows the lives of two women, Adela (Sonia Almarcha), a single mother with an infant son, and widow Antonia (Petra Martínez), the mother of three daughters. Their lives change inalterably in the wake of the Madrid terrorist bombings. Winner of Goya Awards for Best Picture, Best Director and Best New Actor (José Luis Torrijo). Preceded by the short: Hwidar Abdelatif's "Salvador," (11 min.) Discussion following with actress Sonia Almarcha.
MATAHARIS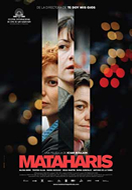 2007
95 min.
Dir. Icíar Bollaín.
Private investigator Inés (María Vázquez) goes undercover as an employee at a multinational corporation having labor problems. Thanks to her new friendship with colleague and union representative Manuel (Diego Martín), she unearths the workers' tactics. But her subterfuge presents her with a difficult emotional and ethical decision. Eva (Najwa Nimri), just back from maternity leave, juggles work and family obligations when she discovers that her partner, Iñaki (Tristán Ulloa), is hiding something fundamental to their future. Carmen (Nuria González), the most experienced of the three, watches and videotapes Sergio's (Antonio de la Torre) marital collapse, something that brings her to the realization that her own marriage is disintegrating.
13 ROSES (LAS 13 ROSAS)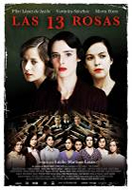 2007
132 min.
Winner of four Goya Awards, including Best Supporting Actor (José Manuel Cervino) and Best Cinematography (José Luis Alcaine). Goya-nominated director Emilio Martínez Lázaro focuses on the true story of thirteen innocent young women who were imprisoned, then executed at the end of the Spanish Civil War in 1939, allegedly for leftist ties and sympathy for a rumored plot on General Francisco Franco's life. Actresses Pilar López de Ayala, Marta Etura and Verónica Sánchez stand out in a distinguished cast. 13 ROSES is preceded by the short: Arturo Ruiz's "Paseo" (12 min.)   Discussion following with actress María Vázquez.
CHAOTIC ANA (CAÓTICA ANA)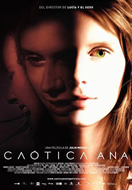 2007
120 min.
Inspired by the life and artwork of his own sister who died tragically in 2000, director Julio Medem, composes an enthralling portrait of a youthful, free-spirited woman whose life is in constant flux. Is it because of her uncommon sensitivity? Or is it memories of her past lives from bygone eras rising to the surface, lives that all ended at a calamitous young age? Raised in a cave dwelling on the Spanish isle of Ibiza by her iconoclast father, Ana (Manuela Vellés) is recruited to a Madrid arts commune by patron Justine (Charlotte Rampling). But she soon undergoes successive breakdowns as she becomes entranced by the paintings of artist Said (Nicolas Cazalé).
ME (YO)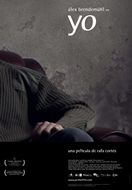 2007
100 min.
First-time director Rafa Cortés makes an impressive debut with this moody, bewildering mystery about identity. Co-writer Álex Brendemühl stars as Hans, a German handyman who goes to work for a boorish German businessman on the island of Majorca. Hans soon discovers that his employer's previous hireling was also a German named Hans, a man who was universally reviled in the village. One day he disappeared, leaving all his belongings behind. As the oppressive rainy season on the island gets decidedly gloomier, Hans becomes obsessed with the secret of his predecessor. Introduction to YO (ME) with director Rafa Cortés. 
SEVEN BILLIARD TABLES (SIETE MESAS DE BILLAR FRANCÉS)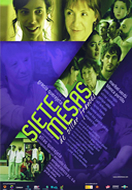 2007
113 min.
Nominated for ten Goya Awards and winner of two, Best Actress (Maribel Verdú) and Best Supporting Actress (Amparo Baró), director Gracia Querejeta's drama observes how characters are shaken by the death of a loved one. Angela (Verdú) returns with her young son to visit her dying father, only to arrive after he has expired. She meets her father's ex-convict girlfriend, Charo (Blanca Portillo), then almost immediately learns her own husband has gone missing after being accused of fraud. With the two grown men in her life now gone, Angela decides to remain in the village and run her late father's billiards parlor. Laced with humor, Querejeta's incisive, anecdotal chronicle is a tapestry of interwoven lives, all unexpectedly intersecting due to the passing of one of their own.
MÁNCORA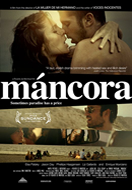 2008
100 min.
Dir. Ricardo de Montreuil.
Self-absorbed Santi (Jason Day) is thrown for a loop when his former pop star father commits suicide. With no ties left in Lima, Peru he decides to head north to the beaches of Máncora. His step-sister Ximena (Elsa Pataky) appears from New York unexpectedly and she invites her wealthy husband Inigo (Enrique Murciano) and herself along, developing an explosive triangle of sexual tension. Road-tripping through beach towns bustling with sex, drugs and booze, emotions run high on all sides. "This film boasts an appealing cast, alluring locations and fluent visual style... Introduction to MANCORA with director Ricardo de Montreuil and actress Anhi de Cardenas. 
THE ZONE (LA ZONA)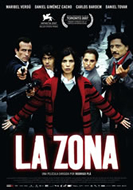 2007
97 min.
Dir. Rodrigo Plá.
During a storm, power goes out in an ultra-secure enclave of middle-class homes in Mexico City. Three teenagers partying in a neighborhood junkyard use a downed pole to climb over the wall on a lark and loot a random house. But things go wrong when the resident fights back, security guards attack and persons on both sides end up dead. The youngest boy Miguel hides, while the residents led by "decent" Daniel (Daniel Giménez Cacho) and brutal Gerardo (Carlos Bardem), organize residents to dispose of the bodies, resist any police investigation and mercilessly hunt the escaped boy. An uncompromising thriller that delivers a subtle message about the pathetic willingness in the "civilized world" to sacrifice its humanity for a false sense of absolute security.
BARCELONA (A MAP) (BARCELONA (UN MAPA))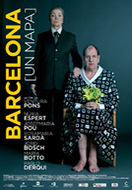 2007
90 min.
Director Ventura Pons zeroes in on five segments, fascinating dialogues between landlord couple Ramon (José María Pou) and Rosa (María Núria) and various tenants in their building whom they have decided to evict. But each conversation touches on many other issues besides residency – life in the city, gender identity and politics, loneliness and crime. Filmmaker Pons has a way of making conversations rivetingly cinematic, and his exceptional cast augment his efforts with sterling, moving performances. At the end of the evening, startling revelations are forthcoming that are entirely appropriate.
SUNDAY LIGHT (LUZ DE DOMINGO)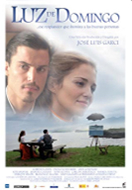 2007
111 min.
José Luis Garci directs this stirring period melodrama set in early 20th century Spain. Álex González stars as a civil servant who arrives to work in a small village town hall and almost immediately falls for local landowner Alfredo Landa's daughter (Paula Echeverría). But the community is far from idyllic, with the town lorded over by the family of the authoritarian mayor (Carlos Larranaga). When González tries to remain neutral in village politics as his marriage approaches, the couple are punished by the mayor's brutal sons. Narrated in flashback by one of the main characters, the tragic events unfold in bittersweet glimpses into an era of romantic chivalry, plagued by feudal, still-repressive impulses struggling to assert themselves in a modern age.
Preceded by short: Daniel Sánchez's "Traumalogia" (22 min.)
SUSO'S TOWER (LA TORRE DE SUSO)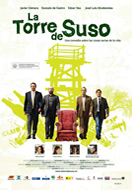 2007
100 min.
Dir. Tom Fernández.
When his old friend Suso dies of an overdose, Cundo (Javier Cámara) returns from Argentina to the Asturian mining village for the funeral. There he encounters his parents as well as many old acquaintances, formerly a bunch of hedonistic revelers. When Cundo gets it into his head that drawings Suso left behind are really messages from beyond the grave, directions for the old friends to build a tower in the late Suso's front yard, he has a hard time convincing anyone. Little by little, though, his persistence unites them in the common task.
PEPE SALES: POOR, POOR MEN, WHO ELSE END UP AT THE BOTTOM (PEPE SALES: POBRES, POBRES QUE ELS DONGUIN PEL CUL)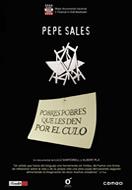 2007
Alguienvolo
76 min.
Pepe Sales was a courageous, groundbreaking folk rock musician and visual artist who irreverently broke down barriers on every front. During the 1980s and early 1990s, Sales provocatively (and often hilariously) thumbed his nose at the status quo of Spanish pop culture and tradition -- from religion to homosexuality to freedom of expression to drug-taking hedonism to the pursuit of absolute artistic integrity. Sales' career was documented on video and film from the outset, and Martorelli and Pla draw on a wealth of fascinating archival material.