Pedro Almodovar Tribute
WOMEN ON THE VERGE OF A NERVOUS BREAKDOWN (MUJERES AL BORDE DE UN ATAQUE DE NERVIOS)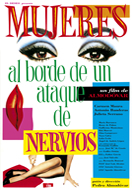 1988
89 min.
Anarchy – sexual and political – runs riot in this Day-Glo colored comedy about a voice-over actress (Almodóvar favorite, Carmen Maura) desperate to get her lover back, amid Shiite terrorists, flaming beds, and some of the wildest slapstick since BRINGING UP BABY. With Antonio Banderas. We are hoping that director Pedro Almodóvar will be able to join us for post-screening discussion – please call 323/466-FILM for confirmation and update on Mr. Almodóvar's attendance.
MATADOR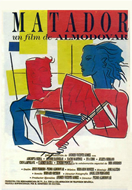 1986
106 min.
Director Pedro Almodóvar's perverse portrait of serial killers in love. Crippled bullfighter Nacho Martinez finds himself drawn to mesmerizing black widow Assumpta Serna. Antonio Banderas co-stars as Angel, a young toreador desperate to prove his manhood (and possessed by strange psychic visions). "In Spain, bullfighting is more sacred than God" – Almodóvar.
WHAT HAVE I DONE TO DESERVE THIS? (¿QUE HE HECHO YO PARA MERECER ESTO?)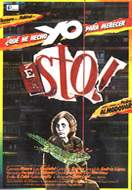 1984
101 min.
In which Pill-popping housewife Carmen Maura scrubs floors all day long to support a typical Almodóvar family that includes a gay 12-year old son, a husband addicted to a suicidal German singer, and a dominatrix next-door neighbor. Jaw-dropping black comedy from the master of surreal melodrama, Spanish style.
DARK HABITS (ENTRE TINIEBLAS)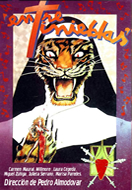 1983
100 min.
Welcome to the Convent of the Humble Redeemers, where Sister Manure and Sister Sewer Rat fend off the advances of the lesbian, heroin-sniffing mother superior, and a strung-out bolero singer (Cristina S. Pascual) who goes on the lam from the Madrid cops. Almodóvar's most savage, sacrilegious comedy features a line-up of fabulous Spanish actresses including Carmen Maura, Marisa Paredes and Chus Lampreave.
THE LAW OF DESIRE (LA LEY DEL DESEO)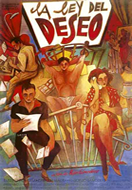 1987
100 min.
A dizzying, poly-sexual melodrama starring Carmen Maura as a boy-turned-girl with a mucho-complicated sex-life (incest, transvestitism and so on). She is kidnapped by the murderously good-looking lover, (heartthrob Antonio Banderas) of her gay pornographer brother (Eusebio Poncela). Banderas' smoldering presence, and his first man-on-man screen kiss, made him a gay icon worldwide.
PEPI, LUCI, BOM (PEPI, LUCI, BOM Y OTRAS CHICAS DEL MONTON)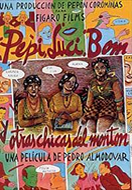 1980
80 min.
The last of Almodóvar's notorious underground movies and his feature directorial debut. Carmen Maura stars as an heiress willing to sell her virginity to the highest bidder, until she is raped by a sleaze-bag policeman. Bent on revenge, Maura convinces a 16-year old punk rocker to kidnap the cop's wife, who turns out to be a masochist in disguise! Watch for a brief Almodóvar cameo at a penis-judging contest.
LABYRINTH OF PASSION (LABERINTO DE PASIONES)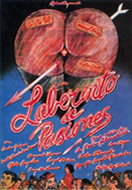 1982
90 min.
Almodóvar created his own punk group – Illegal Black Kiss Dolls – to record the soundtrack for this insanely-raw, freewheeling gutter-comedy about a cheerful nymphomaniac named Sexi (Cecilia Roth), her homosexual soul-mate (Imanol Arias), and about 50 other neurotics, amateur terrorists, plastic surgeons and more.
LIVE FLESH (CARNE TREMULA)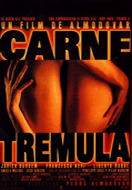 1997
101 min.
Almodóvar assembled one of his finest casts for this mature, complex and often disturbing story of a naïve young man (Liberto Rabal), who breaks into a girl's apartment, and winds up accidentally shooting a police officer (Javier Bardem) who investigates. Released from prison years later, Rabal re-enters the crippled cop's life, and ends up seducing his beautiful, devoted wife (Francesca Neri).
CELOS (JEALOUSY)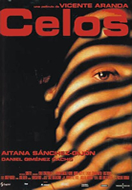 1999
105 min.
Acclaimed director Vicente Aranda's (LOVERS, LIBERTARIAS) white-hot tale of sexual obsession and revenge. Daniel Gimenez Cacho stars as a hardworking truck driver, driven mad by the thought of his wife – the stunning Aitana Sánchez Gijón – with her past lover, the mysterious "José." Aranda's spare, head-on style transforms this from a simple noir into a merciless portrait of Spanish machismo spun out of control, destroying itself and everything in sight.
LISBOA (LISBON)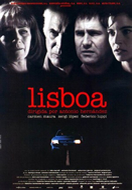 Datos
1999, 100 min. from director Antonio Hernández. Two of Spanish cinema's finest actors – the legendary Carmen Maura and the great Argentinian Federico Luppi – star in this dark, vengeful thriller about a terrified wife trying to escape from her apparently, loving family. Newcomer Sergi López co-stars as the porn-video salesman who gives Maura a lift – and gets slowly sucked into the whirlpool of this Spanish DETOUR.
LA NIÑA DE TUS OJOS (THE GIRL OF YOUR DREAMS)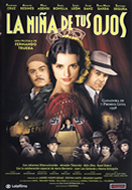 1998
121 min.
Spanish sensation Penelope Cruz stars as a headstrong actress who is the girl of everyone's dreams, in this high-spirited comic drama about a troupe of Spanish actors sent to Berlin in the 1930's to shoot a movie at U.F.A. studios. Director Fernando Trueba (BELLE EPOQUE) beautifully orchestrates a cast of stellar talents – including Jorge Sanz, María Barranco, Antonio Resines and Santiago Segura – as the Spaniards hop from soundstage to bedroom, and run afoul of venomous propaganda minister Josef Goebbels. Cruz's red-hot flamenco number may make you forget about Rita Hayworth in GILDA. Discussion with director Fernando Trueba.
MANOLITO GAFOTAS (MANOLITO FOUR-EYES)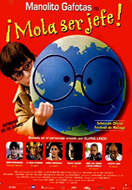 1999
85 min.
From the same directing and creenwriting team -- Miguel Albaladejo and Elvira Lindo – of the THE FIRST NIGHT OF MY LIFE. This sweet, perceptive comedy is about a chubby boy – known as "Manolito Four-eyes" (David Sánchez Rey) who is stuck with a brother named "The Imbecile" and no plans for summer vacation. Suddenly, Manolito's usually-absent dad shows up and takes him on a roadtrip filled with car-sickness, sexy waitresses and an unexpected detour to the beach. Discussion with Screenwriter Elvira Lindo.
TIE ME UP! TIE ME DOWN! (ATAME!)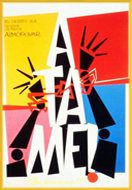 1989
102 min.
Featuring Antonio Banderas as a paroled mental patient, who kidnaps former porn star-turned-junkie Victoria Abril to save her from herself. Almodóvar's violently sexy take on male-female relations made this his most controversial film in the U.S., where it earned a hotly-contested X-rating. "In a country like Spain I don't have to explain that TIE ME UP! is a love story, or defend myself against accusations that it could turn you into a psychopath - !" – Almodóvar.
HIGH HEELS (TACONES LEJANOS)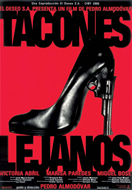 1991
114 min.
Fiery Victoria Abril is back again, this time in the wildly-demented soap-opera of a love-starved newscaster coming to terms with her egotistical, pop-star diva of a mother (Marisa Paredes) – with a little help from a heterosexual drag queen who performs her mother's hits!
THE FLOWER OF MY SECRET (FLOR DE MI SECRETO)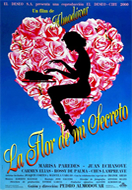 1996
107 min.
Almodóvar switched gears radically with this rich, soul-searching portrait of a middle-aged romance novelist (played by longtime collaborator Marisa Paredes), who is thrown into deep depression and alcoholism when she discovers that her handsome husband (Imanol Arias) has lost interest in her. "The key is becoming the owner of your own loneliness. And this is what my heroine has to suffer so much to discover" – Almodóvar.
KIKA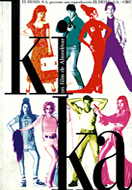 1993
114 min.
Almodóvar's shockingly funny satire on media-culture and modern romance. Veronica Forqué stars as a make-up artist juggling multiple lovers (some with multiple personalities), while rabid TV reporter Victoria Abril cruises Madrid in skin-tight Gaultier outfits with a video-camera strapped to her head, looking to film extremely violent acts. "When I'm criticized, I want to become more dirty and more provocative – that's my answer." – Almodóvar.
FLORES DE OTRO MUNDO (FLOWERS FROM ANOTHER WORLD)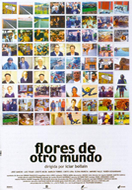 1999
106 min.
With José Sancho, Lissete Mejía, Luis Tosar, Marilín Torres, Chete Lera, Elana Irureta. Actress-turned-director Iciar Bollain delivers on the promise of her excellent first feature, HI, ARE YOU ALONE?, with this powerful, bittersweet drama about a group of Latin American women who travel to rural Spain in search of husbands. Bollain combines the hard-earned realism of Mike Leigh with the harsh, desolate poetry of Victor Erice's SPIRIT OF THE BEEHIVE, in her earthy, compelling portrait of lonely souls in a lonely place.
GOYA EN BURDEOS (GOYA IN BORDEAUX)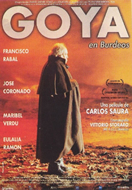 1999
98 min.
From Spain's most admired filmmaker, Carlos Saura (TANGO, CARMEN). Here he re-teams with cinematographer Vittorio Storaro for this luminous, mournful portrait of the last days in the life of famed painter Goya (played by the legendary Francisco Rabal in a lovely, nuanced performance). As he struggles to finish his final work, Goya re-lives his past loves and tragedies – including his passion for the gorgeous, ill-fated Duchess of Alba (Maribel Verdú). At the recent Goya Awards (Spanish equivalent of the Oscars), GOYA picked up five Goyas including Best Lead Actor (Francisco Rabal) and Best Cinematography (Vittorio Storaro).
PIDELE CUENTAS AL REY (ASK THE KING TO EXPLAIN)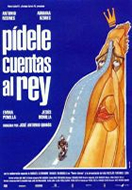 1999
97 min.
Dir. José Antonio Quirós.
A small Capra-esque gem about human resistance in the face of overwhelming odds, PIDELE CUENTAS stars Antonio Resines as a miner who loses his job when the government shuts down the last mine in Mieres. Refusing early retirement, Resines walks on foot with his outspoken wife Adriana Ozores and son to meet the King in Madrid, and ask him for a job. Discussion with screenwriter Alicia Luna and Actress Adriana Ozores.
SEGUNDA PIEL (SECOND SKIN)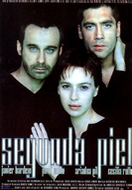 1999
100 min.
Dir. Gerardo Vera.
Two of Spain's finest young actors – Jordi Molla and Javier Bardem – heat up the screen in this drama about a married, seemingly-straight airline engineer (Molla) who conceals his overwhelming gay passion for a local surgeon (Bardem). An honest, and sexually explicit look at hearts and lives in collision from director Gerardo Vera, marked by great performances from Molla, Bardem and actress Ariadna Gil. Discussion with screenwriter Angeles González Sinde.
MUERTOS DE RISA (DYING OF LAUGHTER)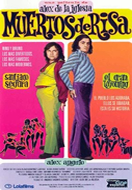 1999
105 min.
from Alex de la Iglesia, (the manic director of DAY OF THE BEAST and last year's PERDITA DURANGO). MUERTOS DE RISA is a scathing 3-Stooges-style comedy about two talentless TV performers, "Nino and Bruno" (Santiago Segura and El Gran Wyoming) who rise to tacky polyester fame by slapping and kicking the hell out of each other on-camera. In real life they develop a paranoid hatred of one another and what follows is a scathing satire of the ridiculousness of fame and the toll it takes on a human being.
SOLAS (ALONE)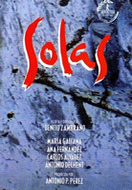 1999
98 min.
The Winner of the Audience Award at the 1999 Berlin Film Festival and winner of five Spanish Goya Awards . A surprise sensation at the Spanish box-office, first-time director Benito Zambrano's emotionally charged drama stars Ana Fernández as a hard-drinking, short-tempered young working woman, struggling to stay afloat in modern Spain. The arrival of her silent mother (María Galiana) from the country, opens up old wounds and forces the two women to confront the vast gulf between them.
SOBREVIVIRE (I WILL SURVIVE)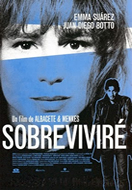 1999
105 min.
Written by Alfonso Albacete, Lucia Extebarria and David Menkes. From the co-directors of the smash erotic hit. NOT LOVE, JUST FRENZY, Alfonso Albacete and David Menkes', I WILL SURVIVE is a sexy, bittersweet portrait of one young woman's journey through life. The glorious Emma Suárez (TIERRA, LA ARDILLA ROJA) stars as Marga, a single mother struggling with the recent death of her lover. Juan Diego Botto co-stars as the gay man who convinces Suárez to reconsider her ideas of love and romance.
PARIS-TOMBUCTU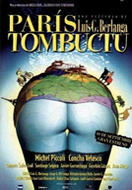 1999
107 min.
From Luis García Berlanga, the director of Spain's most-beloved comedy BIENVENIDO MR. MARSHALL, PARIS-TOMBUCTU is a raucous, in-your-face satire about a sexually frustrated plastic surgeon – played by French acting great Michel Piccoli – who decides to pitch it all in and head to Timbuktu on his bike. Instead, he ends up in the fictitious town of Calabuch ("invented" by Berlanga in 1956), in this absurdly hysterical modern fable.
MAMA ES BOBA (MY SILLY MOTHER)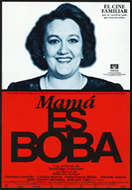 1999
92 min.
A bizarre, wildly subversive comedy from first-time director Santiago Lorenzo, MAMA ES BOBA follows the trials and tribulations of a young boy, Martín (José Luis Lago) with no bowel control. To make things worse, Martín's semi-literate, unemployed mother is catapulted to cruel fame as presenter on a local TV station – where the entire town laughs at her, not with her. If you're a fan of John Waters, be sure to check this out.
LAS HUELLAS BORRADAS (WIPED-OUT FOOTPRINTS)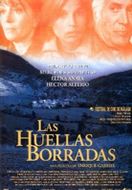 1999
98 min.
From director Enrique Gabriel. The poet Manuel Perea (Federico Luppi) returns to his childhood village just before it's about to be flooded by a reservoir, and there he renews his long-suppressed love for widow Mercedes Sampietro. Part lyrical journey into the forbidden past, part philosophical contemplation of the unavoidable future, LAS HUELLAS BORRADAS evokes the melancholy beauty of northern Spain and the stubborn souls who live there.
VIRIDIANA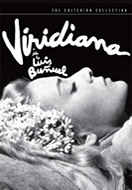 1961
90 min.
In honor of the centennial of the birth of director Luis Buñuel (1900–1983), we're presenting one of his most brilliant, scandalous films (a movie that was banned in his homeland of Spain, and almost had him arrested in Milan!). A novice nun (Silvia Pinal) finds herself corrupted by her spectacularly wicked uncle, Fernando Rey, until she turns the tables by installing a group of beggars and lepers in his Madrid mansion. Co-starring longtime Buñuel friend Francisco Rabal (GOYA IN BOURDEAUX).
AUTOR X AUTOR
4 Short Films on Music (1999, 30 min. ea.). Spain's finest modern filmmakers team up with its greatest singers and musicians for this unique series of intimate documentaries.

First, the director of TANGOS ARE FOR TWO, Jaime Chavarri, focuses his camera on famed singer Luis Eduardo Aute.

Pilar Miro (in her final film) collaborates with the great vocalist Victor Manuel.

Masterful filmmaker José Luis García Sánchez captures the intense poetry of singer/songwriter Joaquin Sabina.

Director Fernando Trueba (THE GIRL OF YOUR DREAMS) lets it rip with Michel Camilo and his irresistible blend of Latin jazz and salsa.
RECENT SPANISH SHORTS

Director Miguel Crespi's "Puta De Oros" (13 min.) is the story of Adrián, a "rent-boy" of a different kind, who finds fame is not all he had dreamed of since childhood.

Featuring outrageous "naked" costumes "Ruleta" (Roulette) (12 min.), from director Roberto Santiago, is a quintessential Spanish black comedy about a group of housewives who argue, drink coffee and shoot guns, as seen from the point-of-view of a washing machine! Featuring Aitana Sánchez Gijón.

Director José Javier Martínez's "Luz" (8min.), winner of the Production Value Award at the 2000 Sundance Film Festival, is a beautiful, sweet animated short about where we come from and the comfort of home, wherever we find it.

David Pareja & Alvaro Pastor's "Los Dardo Del Amor" ("The Dark Parts of Love") (21 min.) is set in the 1960's and examines the dark secrets of two upwardly-mobile couples. José Luis Barrios Trevino's "Movil Immortal" looks at the dark side of the cell phone revolution.

Jorge Torregrossa's "Desiree" (14 min.) is set immediately after WW II as a couple tries to resolve their marital problems in the form of two sailors.

Juan Cruz's "El Olor De Las Manzanas" ("The Secret of Apples") (12 min.) in which Violet watches over her comatose sister in a hospital and decides to expose her deepest secrets.