LOS LUNES AL SOL (MONDAYS IN THE SUN)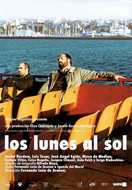 2002
113 min.
The latest from acclaimed filmmaker Fernando León de Aranoa (FAMILIA, BARRIO), LOS LUNES AL SOL is a heartbreaking drama in the best tradition of Mike Leigh or Ken Loach, about a trio of unemployed shipyard workers who haunt the bars and streets surrounding their old factory, looking to piece together some shred of hope or dignity from their endless "days in the sun." Spain's finest actor, Javier Bardem (BEFORE NIGHT FALLS, THE DANCER UPSTAIRS) leads a tremendous cast that includes Luis Tosar, José Angel Egido and Nieve de Medina. With a memorable, melancholy score by Lucio Godoy. Spain's Official Submission for Best Foreign Film at the upcoming Academy Awards, MONDAYS IN THE SUN will be released theatrically in the U.S. by Lions Gate Films. Discussion with director/writer Fernando León de Aranoa.
EL OTRO LADO DE LA CAMA (THE WRONG SIDE OF THE BED)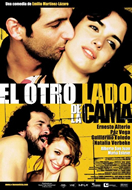 2002
114 min.
This sexy musical comedy by director Emilio Martínez-Lázaro (whose LAS PALABRAS DE MAX won the Berlin Golden Bear in 1977) proved a massive hit in Spain. Paula (Natalia Verbeke) leaves good-hearted Pedro (Guillermo Toledo) for her secret lover, Javier (Ernesto Alterio), Pedro's best buddy, who simply can't find the guts to break up with his girlfriend, Sonia (Paz Vega from SEX & LUCIA.) Nobody is innocent, everyone has something to hide in this classic farce of sex, lies and thrills – complete with full-on choreographed pop numbers!
800 BULLETS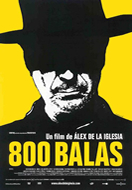 2002
124 min.
A hellfire, tobacco-chewing, guns-a-blazing comedy of epic proportions from director Alex de la Iglesia (EL DIA DE LA BESTIA, LA COMUNIDAD), 800 BULLETS stars the great Sancho Gracia as a grizzled, scene-stealing old drunkard of a stuntman who used to double for Clint Eastwood in the glory days of Sergio Leone & company ("I made fifty films, and had speaking parts in seven of them!") García and his crew of thieves and reprobates live out their Wild West fantasies in boozey splendor – until his long-lost grandson Carlos (Luis Castro) turns up, with mother Carmen Maura in hot pursuit. Discussion with director/writer Alex de la Iglesia; executive producer Juanma Pagzaurtundua and cinematographer Flavio Labiano.
X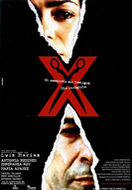 2002
95 min.
Dir. Luis Marias.
A remarkable directing debut by screenwriter Luis Marias, with a great performance by the prolific Antonio Resines as a homicide detective who awakens in an elderly, unknown couple's house without any memory of the previous drunken evening. When he finds bloody scissors and an empty bag in his car, then is asked to investigate a murder that occurred on the night in question, it suddenly becomes clear that Resines himself might be the culprit. A tense thriller with surprising twists and turns, "X" keeps you guessing until the very end.
LA CAJA 507 (BOX 507)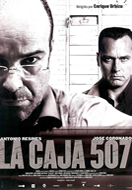 2002
112 min.
Dir. Enrique Urbizu.
Immediately following a chaotic bank heist led by diamond trafficker, Reguiera (Juan Fernandez), bank director Modesto (Antonio Resines), finds scattered safety deposit box documents indicating the forest fire death of his daughter seven years earlier may not have been accidental. While Modesto is searching for the truth, violent ex-cop Rafael (José Coronado) leaves a bloody trail in his quest for the incriminating papers. Before long, Modesto's crusade reveals the dark side of Spain's Costa del Sol and an even bigger web of corruption than he'd originally believed possible. A realistic, deliciously paranoid socio-political thriller with a powerhouse performance by Antonio Resines. Introduction by actress Goya Toledo (AMORES PERROS).
EL VIAJE DE CAROL (CAROL'S JOURNEY)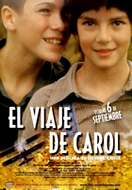 2002
103 min.
The latest from director Imanol Uribe (PLENILUNIO, DIAS CONTADOS), EL VIAJE DE CAROL is an achingly bittersweet, nostalgic saga of growing up in turbulent times. Tomboyish waif Carol (Clara Lago) arrives in a provincial, Fascist-controlled village during the Spanish Civil War. Upon the death of her terminally ill mother, Aurora (María Barranco), she fights to live with beloved grandfather, Amalio (Alvaro de Luna) and braves prejudice when it's discovered her absent American father is fighting with the rebels. With Juan José Ballesta. Discussion with director Imanol Uribe.
EL EMBRUJO DE SHANGHAI (THE SHANGHAI SPELL)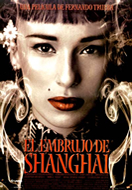 2002
119 min.
The latest from director Fernando Trueba (BELLE EPOQUE, CALLE 54), EL EMBRUJO DE SHANGHAI is a visually captivating historical drama based on the acclaimed novel by Juan Marse. Dani (Fernando Tielve) is a 14-year old, would-be painter in post-war Barcelona with a terrible crush on bedridden Susana (Aida Folch), whose enigmatic, long-absent father Kim (Antonio Resines) was a legendary resistance fighter during the war. When a wartime colleague of her father's turns up in town, he begins romancing the girl's mother, and telling the two teenagers incredible tales of the father's exploits as a Bogart-esque secret agent in Shanghai – stories which may be truth, or pure fantasy … Co-starring Eduard Fernandez, Ariadna Gil, Fernando Fernán-Gómez, Rosa María Sardá and Jorge Sanz. Discussion with director/writer Fernando Trueba.
BALSEROS (CUBAN RAFTERS)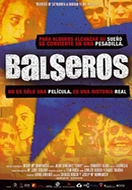 2002
120 min.
One of the strongest Spanish documentaries in years, BALSEROS is a riveting portrait of interlocked destinies as directors Carles Bosch and Josep M. Domenech follow a cross section of Cuban refugees planning to reach Florida and a better life by raft. Starting in 1994, when Castro briefly announced a moratorium on stopping boats to the U.S., then following up in divergent American locations five years later, BALSEROS follows the immigrants' material dreams, ambitions and spiritual growth (or decline.) A dramatic record of people struggling to retain their humanity and achieve freedom and prosperity at any cost, featured in this year's 2003 Sundance Film Festival.
PONIENTE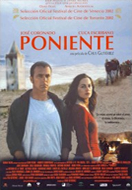 2002
96 min.
Director Chus Gutierrez delivers an outstanding, uncompromising drama on racism in contemporary Europe with PONIENTE, which was co-written with noted actress and director Iciar Bollain (FLORES DE OTRO MUNDO.) Madrid schoolteacher Lucia (Cuca Escribano) returns to her late father's village in southern Spain where she takes over running the family's huge winter greenhouses. Racial tensions rise as Lucia and her lover Curro (José Coronado) outrage the locals by showing sympathy for the illegal North African immigrant workers at their greenhouse, leading to a tragic standoff between the groups.
SALOME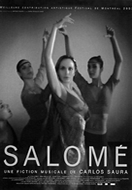 2002
85 min.
Director Carlos Saura continues his love affair with dance evidenced in such earlier films as FLAMENCO and CARMEN in this portrait of the staging of flamenco ballet "Salome." As choreographed by José Antonio and star Aida Gómez, SALOME emerges as another sensual feast of stirringly hot blooded rhythms and sumptuously saturated cinematography (courtesy of José Luis López-Linares and Teo Delgado). With Paco Mora, Javier Toca, Pere Arquillue.
EL ALQUIMISTA IMPACIENTE (THE IMPATIENT ALCHEMIST)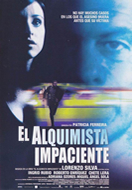 2002
111 min.
Director Patricia Ferreira helms this immensely entertaining murder mystery as police psychologist Vila (Roberto Enriquez) and assistant Chamorro (Ingrid Rubio) simultaneously fight and savor their growing attraction for each other while trying to unravel the deaths of a nuclear plant engineer and his high-priced one night stand. Their efforts embroil them not only in a feud between rival contractors (Miguel Angel Sola and Jordi Dauder), but also the agendas of the plant director (Chete Lara), the victim's wife (Adriana Ozores) and a hot tempered Russian pimp (Nacho Vidal).
EN LA CIUDAD SIN LIMITES (THE CITY OF NO LIMITS)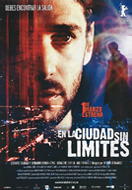 2002
118 min.
LISBOA director Antonio Hernandez delivers a challenging family drama featuring a superb cast. Dying ex-Communist Party member, Max (Fernando Fernán-Gómez) has his loved ones gathered around him in a Parisian hospital. Floating in and out of consciousness, Max rambles on about saving a mystery figure named "Rancel." Is Max losing his mind? When he tries to escape the hospital, his expatriate son, Victor (INTACTO's Leonardo Sbaraglia) decides to take his father's obsession seriously. Soon a story of betrayal and forbidden love unfolds in the shadow of autocratic mother figure, Marie (Geraldine Chaplin).
EL CABALLERO DON QUIJOTE (DON QUIXOTE, KNIGHT ERRANT)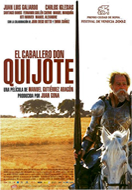 2002
122 min.
This loving, visually sumptuous sequel to Cervantes' original novel finds the deluded Don Quixote (Juan Luis Galliardo) and his long-suffering squire Sancho (the marvelous Carlos Iglesias) riding out to do battle with jealous knights, Merlin the Magician, drag queen Dulcineas and legions of fans of their first adventures (!!), who are only too happy to play along with the pair's fanatical quest for honor, truth and justice. Directed with daft charm and a dash of post-modern humor by Manuel Gutiérrez Aragón (HALF OF HEAVEN, THE KING OF THE RIVER), who helmed a magnificent television version of the original novel in 1991. Co-starring Emma Suárez, Juan Diego Botto.
TRECE CAMPANADAS (WHEN THE BELL CHIMES THIRTEEN)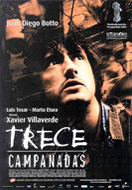 2002
100 min.
Young sculptor Jacobo (Juan Diego Botto) returns to his native city of Santiago only to be tormented by the sadistic spirit of his insane father, Mateo (Luis Tosar), in this dark, fierce ghost story from director Xavier Villaverde. A childhood witness to Mateo's violent death -- apparently at the hands of his mother, Carmen (Elvira Minguez) -- Jacobo must exorcise the horror of that night and dredge up a traumatic secret he would much rather leave buried. With Marta Etura, Laura Mana.
ARO TOLBUKHIN, EN LA MENTE DEL ASESINO (ARO TOLBUKHIN, IN THE MIND OF A KILLER)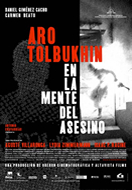 2002
94 min.
Co-directed and written by Agusti Villaronga (IN A GLASS CAGE), Lydia Zimmerman and Isaac-Pierre Racine, and filmed in five countries over a two year period, this faux documentary emerges as a heartbreaking chronicle of one lost soul's journey to the heart of darkness. Saved from the Guatemalan jungle and smitten with missionary nun Carmen (Carmen Beato), Aro Tolbukihn (Daniel Gimenez) reaches the end of his tether when she leaves for Spain, and he burns seven clinic patients alive. A French journalist interviews him on his execution day and discovers the strange, Buñuelian past of a man still carrying the incestuous torch for his long dead twin sister. Scary, beautiful and hauntingly poignant.
LA VIRGEN DE LA LUJURIA (THE VIRGIN OF LUST)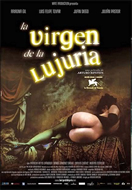 2002
140 min.
The latest film from Mexican master director Arturo Ripstein (THE BEGINNING AND THE END) and screenwriter Paz Alicia Garcíadiego, LA VIRGEN DE LA LUJURIA reveals a tale of lavish eroticism and ferocious S&M in high operatic style. At the Café Ofelia in 1940's Mexico City, where Spanish exiles gather to discuss politics, introverted waiter Nacho (Luis Felipe Tovar) falls for cruel, opium-addicted hooker Lola (sensual Ariadna Gil). The result is a delirious passion that will lead him to do anything for her.
EL LUGAR DONDE ESTUVO EL PARAISO (THE PLACE THAT WAS PARADISE)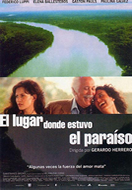 2002
103 min.
Dir. Gerardo Herrero.
Set in a border town between Columbia and Brazil, this Graham Greene-style yarn follows the painful reveries of divorced, single mother, Ana (the fiery Elena Ballesteros) as she remembers her reformed alcoholic father (the magnificent Federico Luppi), who was the idealistic consul of the area. She comes to realize too late that jealousy of her father's mistress Julia (Paulina Galvez) and her misunderstanding of his ambiguous friendships with rightist and leftist rogues may have ruined his last bid for happiness.
SOLO MIA (MINE ALONE)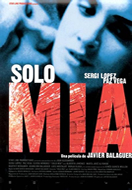 2001
104 min.
Vivacious Paz Vega (SEX & LUCIA) is Angela, a trusting young woman who falls in love with and marries Joaquin (Sergi López), only to see her husband's charm gradually give way to psychopathic obsession, immaturity and macho abuse. Joaquin's inability to see his part in the disintegrating relationship is chilling, but director Javier Balaguer punctuates the narrative with dark humor, elevating the psychodrama into a savagely satirical critique on Spanish culture's all-too-often-biased-toward-the-male, battle of the sexes.
IMPULSOS (IMPULSES)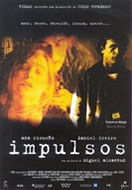 2002
89 min.
A twisted little thriller that will have you biting your nails wondering if suicidally despondent jazz violinist Sara (Ana Risueno) will follow through on her ongoing blackmail of handsome elementary school teacher and serial killer, Jaime (Daniel Friere) to murder her, since she hasn't the guts to do it herself! Director Miguel Alcantud expertly balances the claustrophobic atmosphere with the surreal, warped perceptions of two not particularly stable adversaries.
LA NOVIA DE LAZARO (LAZARO'S GIRLFRIEND)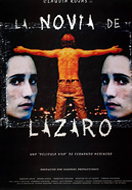 2002
95 min.
Claudia Rojas gives an astonishingly courageous performance as Dolores, a naively sensual innocent arriving in Madrid from Cuba to join Lazaro (Roberto Govin), her sociopathic boyfriend. Jailed for an attempted rape, Lazaro browbeats Dolores into smuggling in drugs on her conjugal visits until she finally tires of his abuse. Director Fernando Merinero's streetwise camera trails Dolores on her convulsively emotional encounters as she tries to make new friends and earn a living. Just before things can dissolve into chaos, she discovers true love with gentle, average joe Paco (Ramon Merlo).
PIEDRAS (STONES)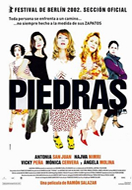 2002
134 min.
28 year old director Ramon Salazar, who gained a cult following with short film "Hongos", confirms his talent with this warm drama of parallel stories of Madrid women. Simple-minded Anita (Monica Cervera) stares at passing airplanes, while her mother, Adela (Antonia San Juan) runs a brothel; the bourgeois Isabel (Angela Molina) is shoes- obsessed; nightclub dancer, Leire (Najwa Nimri) is heartbroken, and taxi driver Maricarmen (Vicky Pena) struggles with her stepkids. A vibrant portrait of modern Madrid.
EL SOL DEL MEMBRILLO (DREAM OF LIGHT aka THE QUINCE TREE SUN)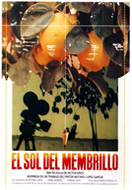 1992
138 min.
Dir. Victor Erice.
Years ago, realist painter Antonio López planted a quince tree in his backyard; now, with infinite patience, he struggles to paint the tree before the fruit ripens and falls. Out of apparently simple stuff, Erice has woven his most mesmerizing and unforgettable film, a masterful meditation on "the desire to replace the external world with its double." Part of the film's wonder and charm is that while López is engrossed in his work, he's constantly interrupted by a stream of visitors; his talkative friend Enrique, a crew of Polish bricklayers, a group of Chinese guests – all of whom become an indelible part of the fabric of the film (and the painting.)
EXTASIS (ECSTASY)
1995
93 min.
Dir. Mariano Barroso.
Javier Bardem (JAMON JAMON), Spain's most explosive actor, stars in this rich, seductive drama with Shakespearean overtones. A young hustler seizes a golden opportunity when he successfully impersonates the lost son of a famous theatre director (played by the great Federico Luppi). The pairing of Luppi and Bardem, each seduced by the other's charm, is pure screen magic.
DIAS CONTADOS (RUNNING OUT OF TIME)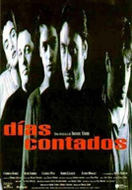 1994
95 min.
Dir. Imanol Uribe.
From the director of EL VIAJE DE CAROL, DÍAS CONTADOS is a moody, sensual thriller with overtones of THE CRYING GAME: a Basque terrorist finds himself compromised when he becomes involved with a much younger prostitute. Carmelo Gómez delivers a brilliant, edgy performance in the lead, with support from Javier Bardem, who won best actor at San Sebastian for his reptilian Lisardo.
EL PERRO DEL HORTELANO (THE DOG IN THE MANGER)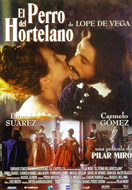 1996
109 min.
Two of Spain's brightest stars, Emma Suárez and Carmelo Gómez, light up this gorgeous adaption of Lope de Vega's classic 17th-century comedy of honor, status and mismatched love. Suárez plays Diana, the countess of Belflor, a mischievous and self assured aristocrat – who just happens to fall in love with one of her attendants, the dashing Teodoro (Gómez), setting off a chain reaction of scandal and intrigue. In the spirit of the feistiest Shakespeare adaptations (think Branagh's MUCH ADO ABOUT NOTHING), late director Pilar Miró (in her final film) fashioned a thoroughly delightful court romp, with just a touch of vinegar to it.
TESIS (THESIS)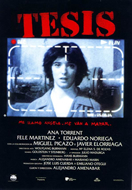 1995
123 min.
23 year old Alejandro Amenábar (THE OTHERS, OPEN YOUR EYES) first made a name for himself with this creepy little thriller about a snuff-film operation working out of a Spanish film school. Haunting, dark-eyed Ana Torrent (SPIRIT OF THE BEEHIVE) stars as the voyeuristic Angela, paired opposite newcomer Fele Martínez as a Spanish Beavis & Butthead-clone with a closet full of video nasties.
LA ARDILLA ROJA (THE RED SQUIRREL)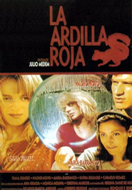 1993
110 min.
Dir. Julio Medem.
From one of Spain's most talented young directors, LA ARDILLA ROJA is a VERTIGO-like thriller of lost identity and blinding passion. A suicidal former rock star with lightning reflexes (Nancho Novo) rescues a beautiful amnesiac from a motorcycle accident, and passes himself off as her boyfriend. Emma Suárez is a sensation as Lisa/Sofía, the enigmatic center of Medem's maze of seemingly innocent, synchronous events.
EL MILAGRO DE P. TINTO (THE MIRACLE OF P. TINTO)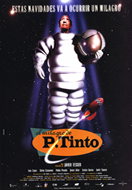 1998
106 min.
A surprise hit at the 1998 Sundance Film Festival, director Javier Fesser's first feature is a surreal, visually-enchanting comedy in the spirit of Terry Gilliam and Jean-Pierre Jeunet, about a childish old man (played by the marvelous Luis Ciges), whose only wish is to have a large family and live happily ever after. But all P. Tinto has to show for his efforts are two disgruntled, alien midgets living in his clothes drawer -- until a lumbering, escaped mental patient shows up on his doorstep, and his prayers for a son seem to be answered at last …
LA BUENA ESTRELLA (LUCKY STAR)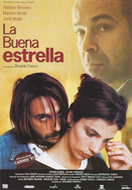 1997
110 min.
Glowing with a subtle, iridescent beauty, LA BUENA ESTRELLA tells the heartwrenching story of a middle-aged butcher (played to quiet perfection by Antonio Resines) who takes a wounded, one-eyed woman (Maribel Verdú) into his home. Spanish bombshell Verdú, known for her work in Y TU MAMA TAMBIEN and BELLE EPOQUE, turns in her finest performance here, torn between her loving husband and her self-destructive ex-boyfriend – played by rising star Jordi Mollá in the film's third exquisite performance. A brilliant drama from the late director Ricardo Franco – infinitely generous and forgiving, almost transparent in its simplicity of spirit.
FLORES DE OTRO MUNDO (FLOWERS FROM ANOTHER WORLD)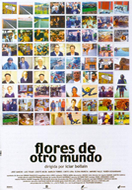 1999
106 min.
With José Sancho, Lissete Mejía, Luis Tosar, Marilín Torres, Chete Lera, Elana Irureta. Actress-turned-director Iciar Bollain delivers on the promise of her excellent first feature, HI, ARE YOU ALONE?, with this powerful, bittersweet drama of a group of Latin American women who travel to rural Spain in search of husbands. Bollain combines the hard-earned realism of Mike Leigh with the harsh, desolate poetry of Victor Erice's SPIRIT OF THE BEEHIVE, in her earthy, compelling portrait of lonely souls in a lonely place.
"RECENT SPANISH SHORTS" PROGRAM
Best Of Goya Short Film Winners! (93 min) Come and enjoy the best of last 10 years of the Goya winners in the Live Action, Animation and documentary categories!

"POLLO", Animated Short Goya Winner 2001, 8 min., director Manuel Sirgo.

"PANTALONES", Live Action short Goya Winner 2000, 4 min., director Ana Martinez.

"LOS GIRASOLES", Animated Short Goya Winner 1999, 15 min., directors José y Manuel Lagares.

"LALIA", Documentary Goya Winner 1999, 14 min., director Silvia Munt.

"UN DIA PERFECTO", Live Action short Goya Winner 1998, 16 min., director Jacobo Rispa.

"CAZADORES", Live Action short Goya Winner 1997, 12 min., director Achero Mañas.

"AQUEL RITMILLO", Live Action short Goya Winner 1994, 15 min, director Javier Fesser.

"EL COLUMPIO", Live Action short Goya Winner 1992, 9 min., director Alvaro Fernández.