PRINCESSES (PRINCESAS)
2005
113 min.
From Fernando León de Aranoa, the director of MONDAYS IN THE SUN, a sometimes hilarious, sometimes emotionally gripping, realistic look at the world of prostitution. With outstanding performances by Candela Peña and Micaela Nevárez with a graceful performace convincingly demonstrating that we are all looking for the same things – self-respect, love and happiness. Caye (Candela Peña) is Spanish, middle class, and keeps her life of prostitution a secret from her family. Zule (Micaela Nevárez) is an immigrant from the Dominican Republic who will use the money to support her son back home. Their friendship develops when Zule is beaten up and Caye takes her to the hospital. Discussion following with actress Candela Peña.
Choque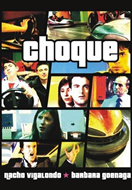 Plus preceding the feature, "Choque", 10 min, bumper cars trigger a man's macho, animalistic tendancies from Nacho Vigalondo, the director of 2004's Oscar nominated "7:35 In the Morning."
THE METHOD (EL METODO GRONHOLM)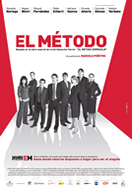 2005
115 min.
Dir. Marcelo Piñeyro.
Put in a room with six other candidates for a high powered job at a multi-national firm in Madrid, the perspective employees must go through a series of tests, games, and competitions that pit applicants against one another in some very nasty ways. A psychological thriller adapted from the play by Jordi Galeran Ferrer, based on a hiring technique imported from the United States, the cutthroat situations bring out the worst in all the applicants – fear, distrust, and cold calculated desire for personal gain. The impact is remarkable, provoking the audience to wonder, "What would I do in this situation?" and exposing the dehumanizing effects of corporate greed and the quest to get ahead. With Eduardo Noriega, Najwa Nimri, Eduard Fernández, Pablo Echarri, Ernesto Alterio, Natalia Verbeke, Adriana Ozores and Carmelo Gómez.
SEVEN VIRGINS (SIETE VIRGENES)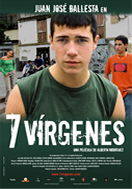 2005
86 min.
Dir. Alberto Rodríguez.
A weekend away from reform school in Seville gives sixteen-year-old Taño (Juan José Ballesta) an opportunity to test his new self against the old. With a harsh warning from his brother to stay out of trouble, Taño fails miserably and is immediately back to his old ways – taking drugs, getting drunk, stealing and having sex. But this time things go too far and Taño's freedom soon turns into some painful life lessons ushering in a new-found maturity. The sublime performances by Juan José Ballesta and newcomer Jesús Carroza captures the shifting moods of adolescents walking the line between male bravado and teenage insecurity.
WOUNDED ANIMALS (ANIMALS FERITS)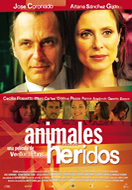 2006
94 min.
Dir. Ventura Pons.
At first the trysts between Silvio (José Coronado), a successful businessman, and Claudia (Aitana Sánchez-Gijón), a famous interior designer, seem like a classic extramarital affair. They meet once a week in the Princess Sofía Hotel and make love – except at Silvio's insistence they must always meet in the same room. By a curious twist of fate Claudia finds herself on assignment in Silvio's home, meeting with his wife, Marcia. The afternoon ends abruptly when Claudia discovers Silvio's sorrowful obsession, paving the way for each character to retreat into their own painful existence. Veteran director Ventura Pons brings a sophisticated dissection of human behavior to three short stories from the book Sad Animals by Jordi Punti.
Los Ojos de Alicia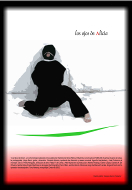 Plus preceding the feature, In Hugo Sanz's "Los Ojos de Alicia" (The Eyes of Alicia), 9 min, a woman is blindfolded in a room and put through a series of trials.
OBABA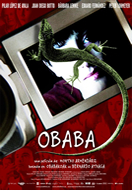 2005
100 min.
Dir. Montxo Armendáriz.
Lourdes (Barbara Lennie), a young students, travels to the hill town of Obaba to shoot some interview. She captures three 60's stories of the inhabitants of Obaba, a lonely schoolmistress (Pilar López de Ayala) awaiting her lover's letter, the death of the unstable man's sister and a pen pal relationship. "An investigative trip to a mysterious, isolated Basque hill town populated by eccentrics becomes a mesmerizing and evocative experience in Montxo Armendáriz's (SECRETS OF THE HEART) satisfyingly rich film, a delicately fashioned look at memory and identity that creates an alternative world."
THE SECRET LIFE OF WORDS (LA VIDA SECRETA DE LAS PALABRAS)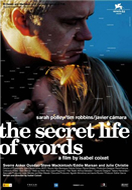 2005
112 min.
In the newest film by director Isabel Coixet (MY LIFE WITHOUT ME), silences eclipse words, for it is what is left unsaid that bestows tremendous power in this evocative drama about isolation and connection. Hannah (Sarah Polley) turns in a mesmerizing performance as a sad, withdrawn woman who wears a hearing aid and lives in a solitary world of her own making. At her boss' insistence, Hannah takes a month long vacation and ends up spending it caring for Josef (Tim Robbins) who has been temporarily blinded in an oil rig accident. Hannah's reticence is countered by Josef's eagerness to talk until the two discover a common bond revealing that sometimes time is the greatest form of healing. Spectacular cinematography heightens the sense of loneliness, isolation and restraint in the middle of the sea. Discussion following with actor Javier Cámara.
LIFE IN COLOR (VIDA Y COLOR)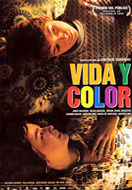 2005
90 min.
Director Santiago Tabernero earned a Goya nomination for Best New Director for his portrayal of Spain on the verge of change. It is autumn 1975, Franco's death is imminent and color televisions are just beginning to find their way into upper-class Spanish homes. Fourteen year old Fede (Junio Valverde) lives with his family in "La Isla," a rural Spanish neighborhood filled with colorful characters and the neighborhood gang who routinely hassles him. Eschewing political commentary, the dazzling cinematography (by José Luis Alcaine) brilliantly captures the village through the eyes and impressions of an uneasy teenager navigating his way through a turbulent adolescence. With Junio Valverde, Silvia Abascal, Joan Dalmau, Ana Wagener, Miguel Angel Silvestre, Andrés Lima and Carmen Machi.
SOMETHING TO REMEMBER ME BY (PARA QUE NO ME OLVIDES)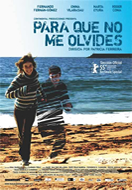 2005
100 min.
The fragile balance between remembering and forgetting is thrown into fine relief in director Patricia Ferreira's powerful new film. Irene (Emma Vilarasau), a playwright, lives with her aging father Mateo (Fernando Fernán-Gómez) and her son David (Roger Coma). When David is killed in a car crash, both grandfather and mother cope differently with the death. While Irene goes to great lengths to forget her son, wondering what the value of memory is and when is it better to forget; Mateo discovers in David's writing, the recording of his own life in the Spanish Civil War and decides to write about his grandson. With haunting reminders of the struggles that persist in Spanish society as it grapples with the legacy of its own painful past.