A retrospective portion of the series is an in-person tribute to two giants of spanish cinema
actress Carmen Maura and director Fernando Colomo
Carmen Maura in-person tribute
MUJERES AL BORDE DE UN ATAQUE DE NERVIOS (WOMEN ON THE VERGE OF A NERVOUS BREAKDOWN)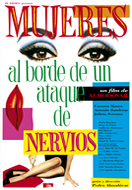 1988
89 min.
Dir. Pedro Almodóvar.
Anarchy – sexual and political – runs riot in this Day-Glo colored comedy about a voice-over actress (Almodóvar fave Carmen Maura) desperate to get her lover back, amid Shiite terrorists, flaming beds, and some of the wildest slapstick since BRINGING UP BABY. A little gazpacho, anyone? With Antonio Banderas. Discussion following with actress Carmen Maura.
QUE HE HECHO YO PARA MERECER ESTO? (WHAT HAVE I DONE TO DESERVE THIS?)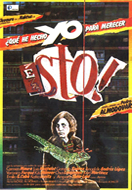 1984
101 min.
Dir. Pedro Almodóvar.
Pill-popping housewife Carmen Maura scrubs floors all day long to support a typical Almodóvar family that includes a gay 12-year old son, a husband addicted to a suicidal German singer, and a dominatrix next-door neighbor. Jawdropping black comedy from the master of surreal melodrama, Spanish style.
AY, CARMELA!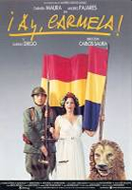 1990
102 min.
Dir. Carlos Saura.
Carmen Maura and Andrés Pajares star as two vaudeville performers trapped behind the lines with Franco's troops during the Civil War. Like his mentor and friend Buñuel, Saura mixes razor-sharp comedy and political allegory here into a devilishly-entertaining brew. Maura's performance as the sensuous, defiant Carmela – ultimately stronger than any of the men around her – is one of her very best.
SOMBRAS EN UNA BATALLA (SHADOWS IN A CONFLICT)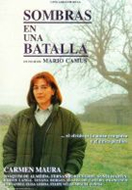 1993
106 min.
Dir. Mario Camus.
Veterinarian Ana's (Carmen Maura) usual, small-town life takes a series of dramatic turns after an unexpected meeting with stranger José (Joaquim de Almeida). As their lives intertwine, José's shady past begins to reveal itself and Ana finds herself involved in some equally dangerous business. Maura delivers an excellent performance, for which she received a 1994 Goya nomination.
LA COMMUNIDAD (COMMON WEALTH)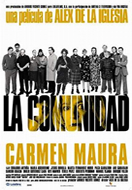 2000
106 min.
The director of DAY OF THE BEAST and DYING OF LAUGHTER, Alex de la Iglesia, returns with this nightmarish comic thriller about a tacky real estate agent, played by the fabulous Carmen Maura (WOMEN ON THE VERGE OF A NERVOUS BREAKDOWN), who discovers $15 million in lottery winnings in the apartment of a dead man. Word soon leaks out, and the greedy neighborhood association circles like vultures, desperate to get their hands on the treasure. A brilliant, gothic thrill ride of a movie, featuring Maura's best performance since WOMEN ON THE VERGE. "It could be a completely serious picture. It has moments of suspense, of terror, of action. But I can't help feeling an irresistible attraction for comedy." – Alex de la Iglesia.
CARMEN MAURA/FERNANDO COLOMO IN-PERSON TRIBUTE
TIGRES DE PAPEL (PAPER TIGERS)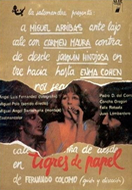 1977
97 min.
Dir. Fernando Colomo.
An era ends, a new one begins with Franco's death in 1975: three friends, Carmen (Carmen Maura), Juan (Miguel Arribas) and Alberto (Joaquín Hinojosa) experience their new sense of freedom while attending political rallies and taking drugs. TIGRES DE PAPEL became the symbol of a generation depicted for the first time on screen. The film marks two important debuts – director Fernando Colomo and actress Carmen Maura's first success on screen! Dicussion with director Fernando Colomo and actress Carmen Maura.
FERNANDO COLOMO IN-PERSON TRIBUTE
AL SUR DE GRANADA (SOUTH FROM GRANADA)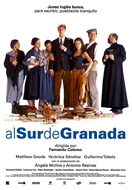 2003
111 min.
Fernando Colomo's latest film is an adaptation of British Bloomsbury group writer Gerald Brenan's travel memoir, The Interior Castle, an homage to southern Spain's Andalusia. Backpacking in the 1920's, with two thousands books following on muleback, British writer Brenan (Matthew Goode) settles in a small town near Granada. Experiencing culture shock, Brenan falls in love with the village witch's daughter, the stunning Juliana (Veronica Sánchez) and befriends local Paco. Co-staring Antonio Resines, amazing as the village priest in love with the lovely Dona Felicidad (Angela Molina). An enjoyable trip to the Andalusia of a bygone age. Discussion with director Fernando Colomo.
ALEGRE MA NON TROPPO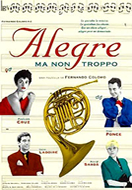 1994
97 min.
Dir. Fernando Colomo.
Colomo's infectious comedic style abounds in this delightful romp starring Pere Ponce and Penélope Cruz in a world of confused sexuality and shifting relationships. Pablo (Ponce) is a fairly happy man who wants nothing more than to be a successful musician. His life is suddenly turned upside down when his boyfriend leaves him, a strange woman (Cruz) appears in his bed, and he is forced to audition before his estranged father. Featuring the great Rosa María Sardá as Pablo's mother.
BAJARSE AL MORO (GOING SOUTH SHOPPING)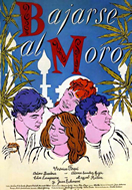 1988
93 min.
Dir. Fernando Colomo.
Verónica Forqué, Antonio Banderas, and Aitana Sánchez-Gijón star as a trio of sexy Madrid roommates in this box-office smash. Pot-smoking Chusa (Forqué) and her police officer boyfriend (Banderas) enlist the help of young Elena (Sánchez-Gijón) for their Morrocan drug smuggling runs, but swiftly encounter a few speed bumps – both on the road and at home!
LOS AÑOS BARBAROS (THE STOLEN YEARS)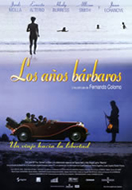 1998
120 min.
Dir. Fernando Colomo.
Madrid, 1947: a group of student radicals paints "Long Live Free University!" on the side of their college – and soon find themselves breaking rocks on one of Franco's chain gangs. If this sounds like heavy drama – think again. THE STOLEN YEARS is a sexy, high-spirited road movie in the tradition of Bogdanovich's PAPER MOON, following the young dreamers as they bust out of prison and flee across Spain in a flashy red convertible. A wry, sentimental look at innocence and the hard path to experience. With one of Spain's brightest young actors, Jordi Mollá (LUCKY STAR), and Ernesto Alterio, Hedy Burress and Juan Echanove.
SUITE HABANA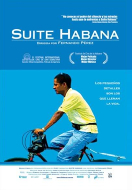 2003
80 min.
Director Fernando Perez's lyrical, utterly unforgettable documentary portrait of modern-day Havana and its people transports into the very heart of the city, focusing on a cross-section of citizens: Francisco, an architect who does construction work to survive; Francisquito, his 10-year old son with Downs syndrome; Heriberto, a railroad repair man who plays saxophone; Juan Carlos, a doctor who performs as a clown at children's birthday parties. Told almost entirely visually, with only a few lines of dialogue, SUITE HABANA brings to mind Vertov's THE MAN WITH A MOVIE CAMERA in its superb editing and camerawork, its attempt to draw us into the interior lives of the subjects with great artistry and compassion.
TE DOY MIS OJOS (TAKE MY EYES)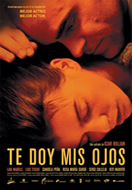 2003
106 min.
Dir. Iciar Bollain's (HI, ARE YOU ALONE?; FLOWERS FROM ANOTHER WORLD) third feature is one of this year's best Spanish films. A compassionate portrait of domestic violence with superb performances. Frightened Pilar (the outstanding new comer Laia Marull), a victim of spousal abuse, escapes with son, Juan, to her sister's house. Torn between conflicting advice from her sister and her mother (Rosa María Sardá) and the actions of husband, Antonio (Luis Tosar of LOS LUNES AL SOL) trying to win her back – the submissive Pilar slowly discovers her strength. With an amazing sequence of aggressive male therapy sessions filmed in Ken Loach docu style.
GOYA EN BURDEOS (GOYA IN BORDEAUX)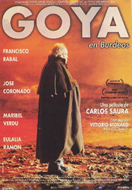 1999
98 min.
Dir. Carlos Saura.
The highly stylized, majestic GOYA EN BURDEOS reteams one of Spain's most admired filmmaker, Carlos Saura with cinematographer Vittorio Storaro for this luminous, mournful portrait of the last days in the life of famed painter Goya (played by the legendary Francisco Rabal in a lovely, nuanced performance). As he struggles to finish his final work, Goya re-lives his past loves and tragedies - including his passion for the gorgeous, ill-fated Duchess of Alba (Maribel Verdú). Director Carlos Saura will discuss "Goya en Burdeos," and the life and work of the Spanish artist Francisco Goya. Discussion moderated by Selma Holo, professor of Art and Director of the Fisher Gallery and Museum Studies Program, UCLA.
SOLDADOS DE SALAMINA (SOLDIERS OF SALAMINA)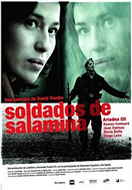 2003
112 min.
Ariadna Gil delivers a superb performance in director David Trueba's latest, a surprisingly rich drama/historical detective story about a burnt-out young novelist researching the case of Sánchez Mazas, a Fascist sympathizer and writer who survived a mass execution in 1939 through extraordinary circumstances. SOLDADOS succeeds on many different levels: as an examination of what the Civil War means in today's Spain; as a portrait of the often torturous process of writing; and finally, as an inquiry into the nature of heroism, and what motivates one seemingly inexplicable act of mercy during wartime. A selection of Un Certain Regard at the 2003 Cannes Film Festival. Discussion following with director David Trueba.
MORTADELO & FILEMON: THE BIG ADVENTURE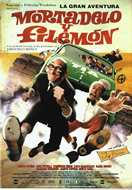 2003
105 min.
Dir. Javier Fesser.
Moronic secret agents Mortadelo (Benito Pocino) and Filemon (Pepe Viyuela) try to recover Spain's most dangerous weapon, a Demoralizing Ray, in this hilariously mutant live-action cartoon that blends AUSTIN POWERS, The Three Stooges and PEEWEE'S BIG ADVENTURE with anarchic glee. Co-starring Dominique Pinon (DELICATESSEN) as Fredy Sledgehammer. An enormous box-office hit in Spain, based on the much-loved comic books by Francisco Ibañez. Director Javier Fesser to introduce screening.
LA SUERTE DORMIDA (SLEEPING LUCK)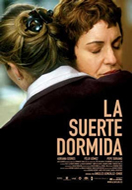 2003
105 min.
Dir. Angeles González-Sinde.
When the son of her friend dies in a mining-related accident, one-time lawyer Amparo (Adriana Ozores) unwillingly takes legal action over compensation. Amparo's own personal family tragedy unfolds as she uncovers the mine's many violations. Screenwriter Angeles González-Sinde's directorial debut is an excellent social drama based on a true story. Adriana Azores gives a superb performance as the emotionally complex Amparo.
LAS HORAS DEL DÍA (THE HOURS OF THE DAY)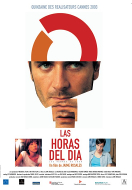 2003
103 min.
Director Jaime Rosales' astonishing debut feature premiered at Cannes Directors Fortnight this year and won the FIPRESCI Award (the International Federation of Film Critics Award). At first glance, there is nothing disturbing in this observation of the painfully normal existence of thirty-year-old Abel (Alex Brendemühl): Abel's routine at his clothing store, the meals with his mother and an un-eventful life with his girlfriend. Nothing prepares us for the sudden turn of events that pushes the audience to the edge. Rosales, a promising director to watch, offers a chillingly naturalistic portrait of a disturbed sociopath.
TORREMOLINOS 73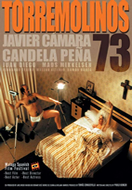 2003
93 min.
Dir. Pablo Berger.
In the unholy (and very funny) marriage of Super 8 mm. porn movies and Bergman's THE SEVENTH SEAL, this is the story of sad-sack encyclopedia salesman Alfred (Javier Camara) and his innocently sexy wife Carmen (Candela Peña). It is the early 70's and their hopes for a better life and a family of their own are going nowhere – until Alfredo's boss offers him 50,000 pesetas to make home porno flicks for "The Swedish Reproductive Institute." Overnight the couple become Euro Sex Stars with their quirky little productions – but artistic success and a happy home life don't often mix, as Alfredo and Carmen find out in this engaging satire of Spain at the end of the Franco era.
DOS TIPOS DUROS (TWO TOUGH GUYS)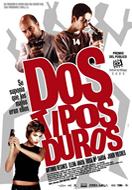 2003
99 min.
Dir. Juan Martinez Moreno.
To repay his gambling debt to a mob boss, hitman Paco (Antonio Resines) reluctantly agrees to educate the boss' skinny 17-year old nephew (Jordi Vilches) in "the business." What appears to be a standard buddy comedy mutates along the way into a wickedly funny series of double- and triple-crosses as the pair acquires a sexy young hooker on the run, a vicious mob boss who is missing his testicles, a seemingly-helpless kidnap victim (Rosa María Sardá) with her own agenda, and a world of pain.
ERES MI HEROE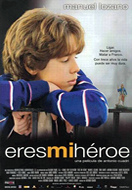 2003
93 min.
Dir. Antonio Cuadri.
Manuel Lozano stars in this coming-of-age tale about a boy who learns to cope with the misery of adolescent schooldays. His father's job requires that the family move frequently and as the perpetual "new kid," young Ramón (Lozano) is constantly bullied. Set during the volatile political climate of Spain in the late-70s, amidst Franco's death and Communist uprisings, HEROE finds Ramón communicating with an imaginary friend, taking courageous stands at school, carrying out anti-Fascist maneuvers, and even… falling in love.
LAS MANOS VACIAS (WHERE IS MADAME CATHERINE?)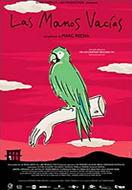 2003
106 min.
Marc Recha's (THE CHERRY TREE, PAU AND HIS BROTHER) latest feature, which premiered at Cannes' Director's Fortnight, is a surprising comic drama. A slapstick chain of events unfolds when the village eccentric, elderly Madame Catherine (Dominique Marcas) dies of a sudden heart attack amidst laughter and hard drinking. Her drunken buddy, Eric (Olivier Gourmet), steals her savings and conceals her death. Soon, life transforms into a macabre comedy throughout the small Catalan village on the Spanish-French border. With Eduardo Noriega. Music by French singer Dominique A.
EL GRAN GATO (THE GREAT GATO)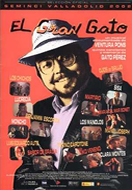 2003
105 min.
The latest from noted Catalan director Ventura Pons (AMIC/AMAT, FOOD OF LOVE) is a loving musical tribute to the art and life of composer "Gato" Perez (1950 – 1990), an Argentinian who settled in Barcelona and almost single-handedly reinvented the rumba. Pons assembled a stellar line-up of contemporary Spanish singers and musicians – including Los Chichos, Lucrecia, Benjamin Escoriza, Luis Eduardo Aute, Moncho, Sabor de Gracia, Ojos de Brujo, Sisa, Kiko Veneno, Tonino Carotone and others – to perform their own versions of 15 of Gato's best-known songs, intercut with interviews with his wife, children and fellow composers.
EL EFECTO IGUAZU (THE IGUAZU EFFECT)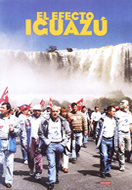 2003
89 min.
Dir. Pere Joan Ventura.
A powerful and unique chronicle of civil disobedience. After 1,800 telecommunications workers are sent home from Spain's state-run Telco in 2001, the unemployed middle-aged men set up a protest camp in the center of Madrid. The "Camp of Hope" lasted for 187 days. With humor and dignity, this film documents the rituals of the camp as it becomes a true community, from the cooking and lodging, to the celebration and demonstration march. A gem of a documentary on solidarity, idealism and the harsh reality of protest.
POLIGONO SUR (THE THREE THOUSAND)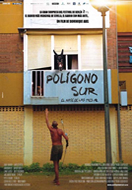 2003
110 min.
Dir. Dominique Abel.
With impassioned Flamenco music at its core, this peculiar and moving documentary depicts gypsies living on the fringes of society in southern Spain, in a neighborhood called "Tres Mil" (Three Thousand). Whether debating the fate of the local community, mourning the influence of drugs on their youth, or enjoying a family meal, the cast of charismatic outcasts often bursts spontaneously into awe-inspiring song and dance performances. A must see for lovers of flamenco!
NOVIEMBRE (NOVEMBER)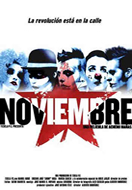 2003
104 min.
Dir. Achero Mañas.
Determined to change the world through acting, Alfredo (Oscar Jaenada) and his school friends start "November," a Dogme-like street theatre group complete with a list of Ten Commandments – among them, to do not perform in theatres and to not accept money. In mockumentary style, director Achero Mañas (EL BOLA) explores the idealism of youth. November's anarchic performances, shot in docu style in the streets of Madrid, are a powerful blend of surrealism and social critique. As their reputation grows, tensions rise, and their naive idealism encounters the hardships of everyday life.
EL MISTERIO GALINDEZ (THE GALINDEZ FILE)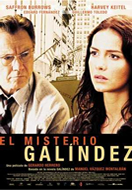 2003
126 min.
Dir. Gerardo Herrero.
Based on the mysterious real-life 1956 disappearance of an exiled Basque politician in New York, EL MISTERIO GALINDEZ is a complex and poignant political thriller. Student Muriel (Saffron Burrows) searches for the truth on the Galíndez case, traveling to Spain, the Dominican Republic and finally Miami on a journey that awakens hidden forces that are not afraid to use violence. Intent on keeping the facts from the public eye, soft-spoken FBI agent Robards (Harvey Keitel) leads the clandestine network.
LA VIDA MANCHA (LIFE MARKS)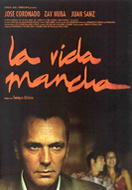 2003
107 min.
Director Enrique Urbizu (BOX 507) returns with this quietly devastating drama about two brothers, the woman they both love, and the difficult choices that mark them for the rest of their lives. Younger brother Fito (Juan Sanz) is a gambling-obsessed truck driver whose long-suffering wife (newcomer Zay Nuba) is about to throw in the towel on their marriage – until Fito's enigmatic half-brother Pedro (José Coronado) turns up after 13 years' absence. Beautifully acted, written and directed, LA VIDA MANCHA is an intimate, small-scale gem of a movie.
LA FLAQUEZA DEL BOLCHEVIQUE (THE WEAKNESS OF THE BOLSHEVIK)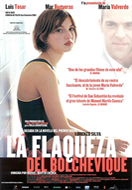 2003
95 min.
Dir. Manuel Martin Cuenca.
Breakout actor Luis Tosar (MONDAYS IN THE SUN, TAKE MY EYES) turns in another superb performance in this disturbing portrait of alienation and sexual obsession in the modern world. Tosar stars as a seething, dissatisfied corporate employee who absent-mindedly rear-ends another driver during morning rush-hour. When the driver sues him for injuries, he over-reacts by first harassing her, then stalking her 15-year old sister, María (María Valverde, who won this year's Goya award for Best Breakthrough Performance by an Actress). He soon finds himself hopelessly in love with the teenaged María – who turns out to have a complex agenda of her own.
"RECENT SPANISH SHORTS" PROGRAM
A program of exciting new visions from Spanish cinema's newest talent. Many of the shorts also feature actors from some of the films we have shown in past Recent Spanish Cinema programs.

Jorge Dayas' "MANIPAI" (11 min). Animated short set in the land of the Maya. Two children are about to be sacrificed, but one escapes.

Leon Siminiani's "ARCHIPIELAGO" (17 min). The past catches up with a honeymooning couple on a gorgeous Caribbean isle.

Alvaro De La Herran's "BUSINESS" (18 min). A power struggle ensues when a new boss is installed in an office.

Raúl Diez's "SR. TRAPO" (12 min). Animated Goya-award-winning short about a traveler made of cloth who cannot seem to get where he is going.

José Acosta Salmeron's "HISTORIA DE UN BUHO" (21 min). Two people's lives change forever when they are unable to express their desires.

Cibran Isasi's "WHIPPED" (11 min). Gorgeous, sensuous story about a couple's intense relationship.

Asier Altunda's "TOPEKA" (3 min). Surreal, black comedy about men and their rams! Director Leon Siminian will appear for discussion following the screening.