CAMINO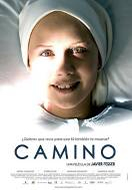 2008
143 min.
Dir. Javier Fesser.
Camino (Nerea Camacho) is a bouncy 11-year-old girl whose happy, God-centric life in Madrid is spent between her religious school and a home dominated by her pious, authoritarian mother, Gloria (Carme Elias). Her family belongs to Opus Dei, the controversial Catholic organization founded by Spain's recently canonized José María Escriva. Then the back pains that have been troubling Camino turn out to have a serious origin… Winner of 6 Goya Awards, including Best Film, Best Director and Best Screenplay Discussion following with director Javier Fesser.
BEFORE THE FALL (3 DIAS)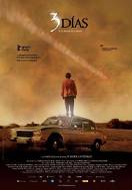 2008
93 min.
Dir. F. Javier Gutiérrez.
The Secretary General of the United Nations makes an important announcement: A giant meteor is headed towards Earth, and scientists believe its impact will destroy all life on the planet in about three days. For Alejandro (Victor Clavijo), a frustrated young man who lives with his mother in the isolated village of Laguna, the impending end inspires him to spend his last days shut away, getting drunk and listening to his favorite music. All is well, until a stranger arrives and unsettles the town. First-time director F. Javier Gutiérrez masterfully creates the atmosphere of a world literally waiting for its own destruction; facing the inevitable end, what should you still care about? Discussion following with director F. Javier Gutiérrez.
THE ONE-HAND TRICK (EL TRUCO DEL MANCO)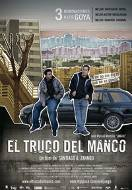 2008
87 min.
Dir. Santiago Zannou.
Twenty-eight-year-old Enrique Heredia (El Langui) is afflicted by cerebral palsy and has difficulty walking. He and Adolfo (Ovono Candela), a downbeat 30-year-old who lives with his alcoholic father, decide to open a music studio, where they can earn a living while working with music, their passion. To accomplish this goal, they surround themselves with men and women of different origins and cultures but with whom they all share the common denominator of belonging to a long-suffering and deprived urban community. Their philosophy: "Don't tell me it can't be done."
THE MISSING LYNX: PAWS ON THE RUN (EL LINCE PERDIDO)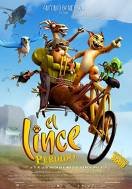 2008
97 min.
Dirs. Raúl García & Manuel Sicilia.
Felix the Lynx, an endangered feline prone to accidents, lives in the breathtaking landscapes of Southern Spain. Together with his motley crew of animal friends (featuring Gus the chameleon and Bea the wild goat) they're now fighting for their lives as they try to escape the blood thirsty Newmann, a world famous hunter hired by the eccentric millionaire Noah in his well meaning but dangerous plan to rescue every endangered species on earth. Co-produced by Antonio Banderas. Discussion following with director Raúl García.
JUST WALKING, (SOLO QUIERO CAMINAR)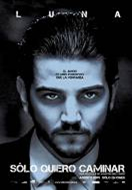 2008
129 min.
Dir. Agustín Díaz Yanes
The action opens in Andalucia as four women -- Gloria (Victoria Abril), Aurora (Ariadna Gil), Ana (Elena Anaya) and Paloma (Pilar López de Ayala) -- are poised to rip off Russian gangsters in Spain. Things go awry and Aurora is left behind, receiving a lengthy jail sentence. Paloma falls in with a visiting Mexican mafia delegation, which includes a garish, pimpish crime boss, Félix (José María Yazpik) and his good-gangster sidekick, the baby-faced Gabriel (Diego Luna). In Spain, meanwhile, Gloria and Ana hatch a plot to spring Aurora from jail. Reunited in Mexico, the girls plot a new heist. Goya Award for Best Cinematography.
THE OXFORD MURDERS (LOS CRIMINES DE OXFORD)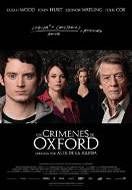 2008
108 min.
Dir. Alex de la Iglesia
From the wildly talented Spanish filmmaker, Alex de la Iglesia (DAY OF THE BEAST; LA COMUNIDAD) a riveting thriller in English. American student Martin (Elijah Wood) arrives in Oxford on a foreign exchange program and gets tongues wagging when he challenges the theory of Professor Seldom (John Hurt) that math doesn't hold the exact answer to everything. But this mismatched pair are thrown together when a series of murders starts that seems to throw both their theories into disarray. A box office hit in Spain. Discussion with director Alex de la Iglesia.
THE BLIND SUNFLOWERS (LOS GIRASOLES CIEGOS)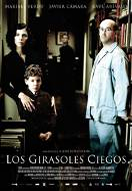 2008
98 min.
Dir. José Luis Cuerda.
In the immediate post Spanish Civil War period, Elena (Maribel Verdu) has assumed the role of head of the household, as her left-wing schoolteacher husband, Ricardo (Javier Camera), is in hiding in the house. This is only one of the family's secrets -- Elena's pregnant daughter has run off with a boy who is a fugitive from the authorities. When Salvador (Raúl Arevalo), a local deacon, part-time schoolteacher and devoted right-winger, becomes obsessed with the supposedly widowed Elena, her secret life is threatened with exposure that could be disastrous. Goya Award winner for Best Adapted Screenplay.
EL ESCORIAL CONSPIRACY (LA CONJURA DE EL ESCORIAL)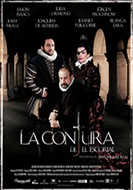 2008
128 min.
Dir. Antonio del Real.
In the late 16th Century, in the Court of Philip II, the House of Alba is fighting to regain the King's favour and displace the rival faction of the House of Mendoza, led by the Princess of Éboli (Julia Ormond). On the night of Easter Monday, 1578, paid assassins ambush Juan de Escobedo (Joaquim de Almeida) and kill him. Mateo Vázquez, (Jordi Mollà) a priest and incorruptible official in the Kings service, is charged with the investigation of his murder.
BIRDSONG (EL CANT DELS OCELLS)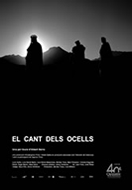 2008
98 min.
Dir. Albert Serra.
In what instantly ranks as one of cinema's most unusual takes on the nativity story, this second feature by Catalan director Albert Serra (KNIGHT'S HONOR) reimagines the journey of the three kings to visit Jesus. Investing the story of the Magi with humor and deep humanity (and photographing it in gorgeous black-and-white in remote locations), Serra recalls both Beckett and Bunuel but tells a story all his own. Winner of three Gaudi Awards, including Best Film and Best Director, this movie confirms Catalan director Serra as one of the most original voices in world cinema. Using non-professional actors and natural light, Serra achieves a reality in both of his films that pays tribute to the majesty of the natural landscape.