Program
October 11, Thursday
OPENING NIGHT:
6 PM Red Carpet
7 PM Movie
Spain's official submission for the 2013 Foreign-Language Film Academy Award: BLANCANIEVES by director Pablo Berger.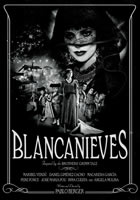 BLANCANIEVES (SNOW WHITE)
2012 | Mama Films, Arcadia Motion Pictures, Motion Investment Group, Noodles Production | 104 min.
Dir. Pablo Berger.
Cast: Maribel Verdú, Daniel Giménez Cacho, Ángela Molina, Inma Cuesta, Macarena García.
In a year when Snow White reappropriations are de riuger, Pablo Berger's 1920s-set tale, offset by punchy Flamenco rhythms and a charming nod to silent cinema, is hands-down the most imaginative. Rejected at birth by her father, Carmencita (Macarena Garcia) is raised by her grandmother. But when granny dies, the poor dark-haired maiden is sent to the lower depths of her evil stepmother's villa. Maribel Verdu (Y TU MAMA TAMBIEN) gives a knockout, ingeniously campy-smart performance as the villainess, hell bent on keeping Carmencita from Prince Charming - here a bullfighting dwarf! - and thwarting her dreams of becoming a matador. "While Michel Hazanavicius' Oscar winner [THE ARTIST] was a playful valentine to pre-talkies Hollywood, Spanish writer-director Pablo Berger's inventive Andalusian reworking of Snow White is a love letter to 1920s European silent film, liberally mixing humor and melodrama." - The Hollywood Reporter.

Trailer
Followed by a celebratory bash in the Egyptian courtyard!
Preceded by the Student Short Film Contest New Filmmakers from Spain Winner:
Los Angeles Premiere!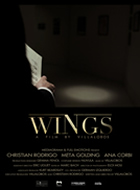 Jury members:
Andrew Crane, Arnold Schwartzman, Millán Vázquez Ortiz.
WINGS
2012 | 8 min. | Dir. José Villalobos | Producers: Christian Rodrigo, José Villalobos, German Izquierdo.
A man ties in his father's job with his own in this well-crafted short.
October 12, Friday
7:30 PM. Double Feature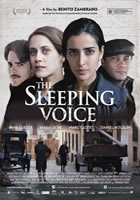 THE SLEEPING VOICE (LA VOZ DORMIDA)
2011 | Maestranza Films, Mirada Sur | 128 min.
Dir. Benito Zambrano.
Cast: Inma Cuesta, María Leon, Marc Clotet, Daniel Holguín.
"Two sisters, one politically active and the other not, find themselves caught up in politics in the dark days following the Spanish Civil War… Vivid performances by attractive leads Maria Leon, who won Best Actress kudos at the San Sebastian festival, and the fiery Inma Cuesta." - Hollywood Reporter. "A harrowing drama that transforms the sorry plight of female prisoners in post-Civil War Spain into a bleak examination of man's inhumanity to women, THE SLEEPING VOICE magnificently tells a tale that needs to be told and retold. Shrewdly remaining mainstream while plumbing the depths of grief and violence… foreign audiences will be gripped." –Variety.
In Spanish with English subtitles.
Discussion between films with director Benito Zambrano and actor Marc Clotet.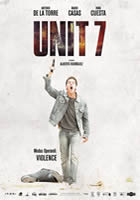 UNIT 7 (GRUPO 7)
2012 | Atípica films, La Zanfoña Producciones, Sacromonte Films | 96 min.
Dir. Alberto Rodríguez.
Cast: Mario Casas, Antonio de la Torre, Inma Cuesta.
In advance of the 1992 World Exhibition in Seville, four cops are asked to clear the streets of drug trafficking; among them are Angel (Mario Casas) and Rafael (Antonio de la Torre). But the streets they work hold both dangers and temptations, and the bribery, violence and intimidation these two men encounter on the job put them on very different paths. Strong lead performances and a nuanced script ground this stylish film noir/cop thriller, which is based on real-life incidents. UNIT 7 also benefits from outstanding cinematography, its gritty tones ramping up the intensity of the moral conflict (and some pretty spectacular chase sequences).
In Spanish with English subtitles.



Trailer


October 13, Saturday
7:30 PM. Double Feature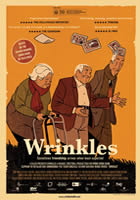 WRINKLES (ARRUGAS)
2011 | Perro Verde Films, Cromosoma | 89 min.
Dir. Ignacio Ferreras.
Adapted from Paco Roca's comic book (2008 Spanish National Comic Prize), this stunning animated feature focuses on the friendship of Emilio and Miguel, two senior citizens living in a care facility. Through acerbic dialogues, this delicate tale evokes aging and friendship with humor. "Illuminating, amusing, sensitive and touching." - Tribune. "The exceptional animated feature WRINKLES imaginatively and sensitively explores one of the major issues confronting most of the developed world: how to look after senior citizens in a rapidly aging population." - The Hollywood Reporter.
In Spanish with English subtitles.



Trailer


Discussion between films with director Ignacio Ferreras.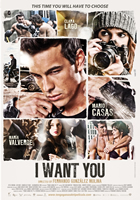 I WANT YOU (TENGO GANAS DE TI)
2012 | Zeta Audiovisual, Antena 3 Films | 124 min.
Dir. Fernando González Molina.
Cast: Mario Casas, Clara Lago, María Valverde.
In this sequel to THREE STEPS ABOVE HEAVEN, Hache (Mario Casas) is back in his native Spain following two years in London. After his best friend Pollo (Alvaro Cervantes) dies and his girlfriend Babi (María Valverde) leaves, the young man struggles with loss until he meets Gin (Clara Lago), a photographer, singer, dancer and all-around wild-child with whom he falls in love. Adapted from a Moccia novel like its predecessor, this teen melodrama employs striking visuals, epic music and great editing as it juggles sex, violence and motorcycles, with Casas' engrossing performance as the rebel Hache tying it all together.
In Spanish with English subtitles.



Trailer


October 14, Sunday
7:30 PM. Double Feature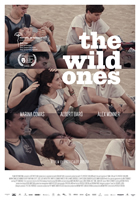 THE WILD ONES (ELS NENS SALVATGES)
2012 | Distinto Films, Aralan Films, La Femme Endormie SARL | 100 min.
Dir. Patricia Ferreira.
Cast: Marina Comas, Álex Monner, Albert Baró.
Patricia Ferreira's elegant triptych of coming-of-age tales follows three teenage friends and their individual struggles to define themselves amidst hard family conditions and a seemingly indifferent society: Graffiti artist Alex (Alex Monner), ignored by his parents and faced with the mounting living expenses for an art grant he wins; kick boxer Gabi (Alberto Baró), who lives in fear of his domineering gym-owner father; and wealthy Oky (Marina Comas), who lives comfortably but without affection from her parents. "The sins of parents and teachers are visited on their progeny and students in THE WILD CHILDREN, a largely subtle, compassionate and perceptive take on bad education affecting a trio of Catalan teens. Helmer Patricia Ferreira's strongest work to date delivers a clear call to grownups to mend their ways, filtered through a neatly structured criss-crossing narrative... An engrossing drama as well as an urgent cry for social change." –Variety.
In Catalan with English subtitles.



Trailer


Discussion between films with director Patricia Ferreira.
NO REST FOR THE WICKED (NO HABRÁ PAZ PARA LOS MALVADOS)
2011 | Telecinco Cinema, Lazona Films, Manto Films | 114 min.
Dir. Enrique Urbizu.
Cast: Jose Coronado, Rodolfo Sancho, Juanjo Artero, Helena Miquel.
Enrique Urbizu´s explosive neo-noir centers on hardened cop Santos Trinidad (José Coronado), an alcoholic who, after a tense bar brawl, shoots three people dead. The fourth opponent in the fight (Karim El-Kerem) makes it out alive, leaving Trinidad to track down the sole breathing witness to his impulsively heinous crime. From here, the expertly crafted crime film shifts into cat-and –mouse mode, alternating between police procedural (as investigative detective Helena Miquel pursues Trinidad) and stalker thriller as the crooked cop hunts down his incriminating prey. Winner of the 2012 Goya Award for Best Actor, Best Director and Best Film.
In Spanish with English subtitles.



Trailer



Ticket Prices
· $11 General.
· $9 Seniors (65 & over) and students with current I.D.
· $7 for American Cinematheque Members.
Box Office Hours
At the EGYPTIAN THEATRE.
Opens 1 1/2 hours before the first program of the day/ evening.
Closes 30 minutes after the last film of the evening begins.
Buying Tickets
Tickets are on sale at the box office or on FANDANGO.COM.
No handling charge on advance /same day tickets purchased in person at the Box Office.
Only cash, Amex, Visa & Mastercard.
Parking
Paid parking ranging from $5-15 is available off Selma south of Hollywood blvd between Selma and McCadden.
Hollywood and Highland $2 for 2 hours with validation from the parking office at the complex or any business.
Transportation
Metro provides Bus and Rail transportation to the Recent Spanish Cinema at the Egyptian Theater, walking distance from the Metro Red Line.
Hollywood/Highland Station. For your best route or more info, visit the Metro Trip Planner or call (323) Go Metro.