Program
Thursday, October 15 – 7:00 PM
RECENT SPANISH CINEMA XXI OPENING NIGHT PREMIERE
With Spain's 2015 Goya Winner.
LA ISLA MINIMA (MARSHLAND)
Directed by Alberto Rodriguez. Starring Javier Gutierrez, Raul Arevalo, Nerea Barros & Antonio de la Torre.
Thursday, October 15, 2015
6:00 PM: Red Carpet
7:00 PM: Presentation, Film & Discussion with guest TBC
Followed by a reception in the Egyptian courtyard for all tickets holders!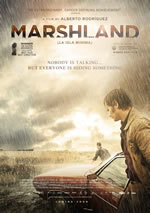 MARSHLAND (LA ISLA MINIMA)
2014, Outsider Pictures, 105 min. Dir. Alberto Rodriguez.
Spain's democracy was still on wobbly legs in 1980 in Andalusia where this tense crime drama is set. Two cops of differing backgrounds - Juan (Javier Gutiérrez) and Pedro (Raúl Arévalo) - are dispatched to the depressed rural area to investigate the disappearance of two sisters. Winner of 10 Goya Awards.
In Spanish with English subtitles.
Check website for guest update.

TRAILER

TICKETS
Friday, October 16 – 5:30 PM
RECENT SPANISH CINEMA ROUND TABLE, 60 min. Join us for a panel discussion with filmmakers and actors attending this year's Recent Spanish Cinema series, moderated by Julian Gutierrez-Albilla, Associate Professor of Spanish and Portuguese and Comparative Literature, USC and Cristina Martinez, Professor at The Department of Spanish and Portuguese at University of CA, Davis.
At The Spielberg Theatre in the Egyptian Theatre. This is a free event - first come, first served!.
Friday, October 16 – 7:30 PM Double Feature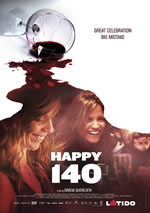 Los Angeles Premiere!
HAPPY 140 (FELICES 140)
2015, Latido Films, 98 min. Dir. Gracia Querejeta.
Elia (Maribel Verdu) has just won a 140 million Euro lottery prize, and one of the things she spends her money on is a 40th-birthday party. She invites a group of family and friends, including the ex she still pines for - but proximity to wealth can warp even the closest relationships.
In Spanish with English subtitles.
Discussion between films with actor Alex O'Dogherty

TRAILER

TICKETS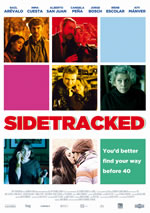 SIDETRACKED (LAS OVEJAS NO PIERDEN EL TREN)
2014, Film Factory, 103 min. Dir. Alvaro Fernandez Armero.
The midlife crises of three Spanish couples provide laughs in this ensemble comedy. When Luisa (THREE MANY WEDDINGS' Inma Cuesta) and Alberto (Raúl Arévalo) move to the countryside, the change puts a damper on their sex life; Luisa's sister and Alberto's brother have their own relationship challenges.
In Spanish with English subtitles.

TRAILER

TICKETS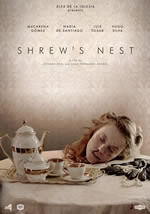 Friday, OCTOBER 16 – 8:00 PM
SPECIAL SCREENING

Spielberg Theatre: Co presented with Beyond Fest: Los Angeles Premiere! SHREW'S
SHREW'S NEST (MUSARAÑAS)
2014, Film Factory, 95 min. Dirs. Juanfer Andrés, Esteban Roel.
At the center of this terrifying psychological maze, set in 1950s Spain, is the apartment of Montse (a wonderfully wild Macarena Gómez), whose agoraphobia and religious obsession find their focus on an injured young man who has the misfortune to show up at her door. With Luis Tosar.
In Spanish with English subtitles.
Discussion after film with filmmaker ESTEBAN ROEL

TRAILER

TICKETS
Saturday, October 17 – 7:30 PM Double Feature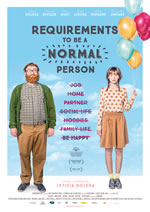 Los Angeles Premiere!
REQUIREMENTS TO BE A NORMAL PERSON (REQUISITOS PARA SER UNA PERSONA NORMAL)
2015, 90 min.
Everybody tries to fit in, but few people go about it as methodically as Maria de las Montañas (writer-director Leticia Dolera), who hopes to reach normalcy through a seven-item checklist and a little help from her mentally challenged younger brother (Jordi Llodrà) and overweight friend (Manuel Burque).
In Spanish with English subtitles.
Discussion between films with actress & filmmaker Leticia Dolera.

TRAILER

TICKETS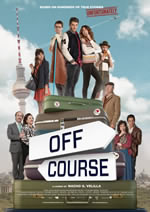 Los Angeles Premiere!
OFF COURSE (PERDIENDO EL NORTE)
2015, DeAPlaneta International, 102 min. Dir. Nacho Garcia Velilla.
Hugo (Yon González) and Braulio (Julián López) both have university degrees and no jobs. They think they can escape the economic doldrums by leaving Spain for Germany, but what looked like a land of opportunity on TV presents unexpected challenges in one of Spain's most successful films of the year.
In Spanish and German with English subtitles.

TRAILER

TICKETS
Sunday, October 18 – 7:30 PM Double Feature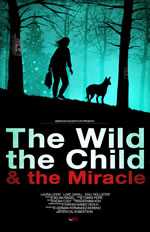 The evening begins with the winner of The New filmmakers from Spain short film contest "The Wild, The Child & The Miracle".
2014, American Film Institute, 24 minutes.
Producer: German Fernandez Moreno.
Director: Carl Robertson.

TRAILER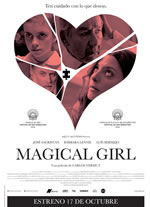 Los Angeles Premiere!
MAGICAL GIRL
2014, Films Distribution, 127 min. Dir. Carlos Vermut.
In this haunting (and occasionally intense) drama, unemployed professor Luis (Luis Bermejo) has a 12-year-old daughter with a terminal illness and a last wish – to have a dress just like the main character of her favorite Japanese anime series.
With Goya and Feroz winner Bárbara Lennie.
In Spanish with English subtitles.

TRAILER

TICKETS
Introduction by filmmaker Daniel Guzman & Discussion following the film.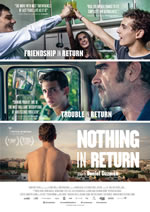 Los Angeles Premiere!
NOTHING IN RETURN (A CAMBIO DE NADA)
2015, 6 Sales, 93 min. Dir. Daniel Guzmán.
Teen Dario (Miguel Herrán) gets into minor scrapes with lifelong buddy Luismi (Antonio Bachiller) and finds a surrogate family in Madrid with a mechanic and a 90-year-old junk dealer in this Málaga Best Film winner. "A high-energy, feel-good movie with the warmest of hearts." – Jonathan Holland, The Hollywood Reporter

TRAILER

TICKETS

Ticket Prices
· $11 General.
· $9 Seniors (65 & over) and students with current I.D.
· $7 for American Cinematheque Members.
Box Office Hours
At the EGYPTIAN THEATRE.
Opens 1 1/2 hours before the first program of the day/ evening.
Closes 30 minutes after the last film of the evening begins.
Buying Tickets
Tickets are on sale at the box office or on FANDANGO.COM.
No handling charge on advance /same day tickets purchased in person at the Box Office.
Only cash, Amex, Visa & Mastercard.
Parking
Paid parking ranging from $5-15 is available off Selma south of Hollywood blvd between Selma and McCadden.
Hollywood and Highland $2 for 2 hours with validation from the parking office at the complex or any business.